May 2020 New Connectivity Products
Summary coverage of new-to-market connectivity products, including interconnects, wire and cable, cable assemblies, materials, accessories, tools, development kits, and connector-adjacent technologies, such as sensors and antennas. Supplier names are generally linked to product announcements and product names are generally linked to product pages or datasheets.
May 2020 New Connectivity Products
May 2020 New Connectivity Products > Interconnects, etc.
Samtec released a new version of its HSEC8 Connector designed to accept blunt-edge cards to help customers save money and reduce PCB manufacturing process requirements. Like all HSEC8 micro-pitch edge-card sockets, the new connector incorporates the company's rugged, high-cycle, and high-speed Edge Rate contacts, which feature contact geometries designed, simulated, and optimized for 50Ω and 100Ω systems, as well as extensive design flexibility. The new HTEC8 — a variation of the HSEC8 socket — is designed to allow more lead-in for the mating PCB. The tips of the HTEC8 contacts are completely hidden behind the chamfered entry in the plastic insulator body, which is especially helpful when mating with lower-cost blunt-edge PCBs vs. PCBs with chamfered edges and when manufacturing processes present less-than-ideal assembly or PCB mating circumstances. The HTEC8 is footprint compatible with the HSEC8 and has similar electromechanical and electrical specifications. The new HTEC8 connector is available with 40–200 positions and optional weld tabs for additional mechanical strength on the board, accepts 1.60 mm thick PCBs, and is PCIe compatible, RoHS compliant, lead-free solderable, and UL recognized.
Mill-Max released new Omniball spring-loaded contacts specifically designed for sliding and rotational connections. The new spring-loaded, surface-mount contacts have an innovative, patent-pending design with a gold-plated rolling-ball interface in place of a traditional plunger to allow mating components to engage in lateral, rotational, and angular alignments (vs. traditional axial or vertical alignments) and ensure optimal electrical, mechanical, and structural reliability. When engaged, the ball compresses and rolls, allowing the mating surfaces to make contact and smoothly slide parallel to each other. Spring force maintains consistent electrical contact between the mating surfaces while the rolling action alleviates connector damage concerns common to traditional plunger-style spring pins in these types of applications, including binding, premature wearing, and structural failure. The new Omniball contacts have a maximum stroke of 0.030" (0.762mm) and an overall height of 0.266" (6.67mm) and have been tested to 1,000,000 compression and rolling cycles at half-stroke while still meeting specifications for maximum contact resistance of 20mΩ, 3.5A rated current, and 55g spring force at mid-stroke (0.015" or 0.381mm). Ideal applications for the series include any application that involves sliding or rotating connections, such as twist-and-lock cable connectors, smart-lens camera connectors, and rugged and IP-rated connectors with quarter-turn and threaded mating mechanisms, as well as docking stations, quick connects, and blind-mating applications. The new contacts are available as both individual pins and in a four-pin circular connector that's especially well-suited for round cable connector applications and can be shipped in tubes or tape and reel packaging. Custom designs are also available upon request.
HARTING's new Han Shielded Power Module allows users to insert shielded power lines into modular connectors for the very first time, enabling both easier installation and shorter installation times compared to hardwiring shielded power lines and also allowing shielded cable connections to be made alongside other modules nestled within Han-Modular Series hoods or housings. The new power module has three power contacts, one PE contact for connecting typical three-phase loads, and two signal contacts for temperature monitoring, brakes, and other functions, as well as a large shield for EMC-compliant shielded cable connections. HARTING has tested the new module in practical applications in its EMC laboratory and has concluded that the EMC characteristics of the shield in the Han Shielded power module are entirely suitable for typical drive applications such as frequency-controlled three-phase motors. The next product in the new Han Shielded Power Module family will be an EMC-protected module with both a large shield and an additional 360° shielding plate for high-volume signal transmission.
TE Connectivity's new PCON terminals for high-voltage, touch-safe interconnect systems are designed for use in powertrain and auxiliary applications within electric and hybrid electric vehicles (EVs and HEVs). The range combines high current handling capabilities with a common body design that's optimized for maximum vibration resistance and minimal mating forces and made to incorporate touch-safe protection features per IEC 60529 IP2XB and UL-finger standards for EV powertrain applications. The new PCON 12, PCON 18, and PCON 21 terminals are each available with 90° and 180° mating directions, compatible with wire sizes spanning 5–95mm2, and capable of supporting continuous currents up to 400A while also enabling safe and easy assembly and maintenance.
Rosenberger's new RoSPE-HMTD and RoSPE-Industrial Series single-pair Ethernet (SPE) cable assemblies are based on its compact, robust, and lightweight MTD and H-MTD Series differential connector systems for demanding automotive electronics systems; optimized for industrial applications, featuring robust IP20 and IP67 PCB, panel, and bulkhead housings and the new SPE interface developed in cooperation with members of the Single-Pair Ethernet Alliance; and manufactured using Rosenberger's fully automated, 100% tested and traceable process to ensure high-reliability performance. The new SPE assemblies deliver the perfect balance of speed, distance, and power to applications including Industry 4.0 equipment, IoT devices, and sensors using power-over-data-line technology to provide parallel high-performance power and data over a single Ethernet wire pair. They also provide customers with more options for compact, lightweight, and low-cost cabling solutions capable of transmitting up to 1GB/s and 0.5–50W over cable runs up to 1,000m long and further support cross-industry and -application SPE standardization efforts.
ERNI Electronics expanded its MicroBridge family of compact, robust, cable-to-board connectors for harsh environments with the addition of a new 1.27mm-pitch latching connector developed in accordance with USCAR-2 and VW75174 automotive standards. The new MicroBridge connector offers excellent mating integrity and robust resistance to shock, vibration, and temperatures up to 150°C. It has latching mechanisms that provide both audible and tactile confirmation of proper mating and can be released without tools and employs Koshiri security features including terminal position assurance, color-coding, and mechanical coding to ensure safe, reliable connections. Options for the newest single-row MicroBridge connector include straight and angled SMT male connectors with solder chips that help absorb mechanical stress and female IDC connectors with a 90° cable outlet and integrated strain relief. Current offerings are available with 2–20 pins and ideal for use in harsh-environment automotive applications including LED headlights.
Cinch Connectivity Solutions expanded its Midwest Microwave product portfolio with new commercial-grade 2.4mm and 2.92mm millimeter wave (mmWave) terminations, extending its application range from military, space, and laboratory markets to commercial applications as well. The new Midwest Microwave Commercial-Grade Terminations offer excellent performance for the price and are currently available in 2.92mm, 40GHz and 2.4mm, 50GHz variations with RoHS-compliant, passivated stainless steel constructions. The mmWave terminations are designed and manufactured for quality and reliability and provide years of trouble-free service in cellular base stations, public safety systems, Wi-Fi networks, active antenna systems, 5G, GPS, and other commercial applications. They are currently in stock at Digi-Key and Mouser.
LEMO's new harpoon earthing pins support easy installation in various push-pull connector receptacles and sockets. The primary advantage of the new press-fit contacts is pre-assembly time savings achieved by eliminating the need for washers and screws. The new press-fit pre-assemblies allow OEMs and other assemblers to simply turn the PCB upside down and run the parts through the reflow soldering oven. The current design is compatible with 1.6mm-thick PCBs and future additions will include elbow and straight PCB sockets.
ODU expanded its contact portfolio with the addition of numerous new gold-plated options to help ensure improved resistance to environmental influences in critical signal, military, security, and medical applications.
May 2020 New Connectivity Products
Mill-Max added two new crimp pins and five new receptacles to its extensive selection of wire termination products, all of which are precision-machined to exacting tolerances, gold plated for optimal conductivity and durability, and fitted with high-reliability Mill-Max spring-finger contacts. The new crimp pins are available in 0.054" (1.37mm) and 0.078" (1.98mm) sizes for 20–18AWG and 20–16AWG, respectively, and the new receptacles accommodate pins as large as 0.063" (1.60mm) and as small as 0.022" (0.559mm) and wire spanning 24–18AWG. Standard plating includes 10µin of gold over nickel underplate on shells and 30µin of gold over nickel underplate on internal contacts, but thicker gold plating is available upon request. The new crimp pins and receptacles are well suited for wire termination in board-to-board or intra-board power or signal connections, as well as for use in cable assembly connectors where they can be insert molded or potted around. Custom solutions are also available.
The new Leap-AHRD High-Speed Optical Module from Amphenol Aerospace is faster, smaller, and more cost- and power-efficient than most conventional data center interconnects and allows for monitoring connection discovery, channel diagnostics, and signal status monitoring. The compact, high-density optical transceiver is easy to install and capable of 25Gb/s transmission over distances up to 100m for a total throughput of 300Gb/s using only one square inch of board space and 5.4W of power. It has an integrated heat sink and an enhanced bit error rate (1e-12) that requires limited to no forward error correction (FEC), uses off-the-shelf MT optical interfaces and 2.5 times less board space than 12-channel QSFP28 solutions, is compatible with Amphenol sockets, and can be placed in a two-dimensional layout grid with a one-inch pitch between adjacent transceivers. It is also available in a Class 1M laser version.
Yamaichi Electronics further extended its Y-Circ P product portfolio with the addition of new right-angle sockets. The new connectors have shielded metal housings to protect signals against interference and are available in several sizes and pin-counts, as well as front- and rear-panel mount configurations with screws or solder pins for mechanical fixing and shield transfer. They also offer easy customization via the Y-Circ P Configurator.
May 2020 New Connectivity Products > Wire, Cable, Cable Assemblies, and Tubing 
Cinch Connectivity Solutions' new 2.92mm, 40GHz Test Cable Assemblies leverage the company's Johnson brand straight, 2.92mm connectors and Semflex brand HP160S high-performance, low-loss PTFE cable. They exhibit a maximum VSWR of 1.25 up to 40GHz performance, 50Ω impedance (±2), and 76% propagation velocity (Vn), which is ideal for use in test and measurement, engineering lab, millimeter wave, telecommunications, manufacturing, and military applications, and are rated for operating temperatures extending from -40°C to +80°C. They are available in several standard imperial and metric lengths spanning 6–60" and 75–1,000mm and are currently in stock at Digi-Key and Mouser. Customization is also available. 
Samtec's new RF047-A flexible, low-loss cable assembly for space-limited applications that require high flexibility offers performance up to 67GHz with a maximum VSWR of 1.4:1 or better. Standard assemblies feature 1.85mm male and female solder clamp connectors with fully captivated center contacts, passivated stainless steel body components, and gold-plated brass solder ferrules and beryllium copper contacts, but alternative interconnect options including 2.92mm, SMPM, and custom connectors are also available. 
May 2020 New Connectivity Products
HUBER+SUHNER launched the new Q-ODC-2 Mini to enable more cost-effective, flexible, and higher capacity deployments of new wireless infrastructure in harsh-environment industrial and communication applications. The new size-optimized connector is 50% smaller and 40% lighter than its Q-ODC-2 outdoor connector, enabling wireless infrastructure providers to access new locations, add more capacity to the network, and reduce the cost per bit and is waterproof, dust-proof, and corrosion resistant for outdoor use. It also helps installers overcome the challenge of high system sensitivity and increases reliability, opening up new areas of application for fiber optics in industries including wind energy, railway, and shipbuilding and features a robust push-pull coupling mechanism and an extension connector for cable chaining, which makes it fast and easy to install. 
Harwin now offers both its Datamate J-Tek and Gecko high-reliability connectors with flexible printed circuits (FPCs) attached to provide lower profile interconnect solutions for aerospace, motorsport, satellite, and defense installations where there is little space above the board surface. The new FPC-attached connectors allow PCBs within a system design to be stacked much closer together and, if installed as right-angled connections, can be kept at the periphery of the board to achieve thermal management and ease-of-mating benefits. They also employ four-finger beryllium copper contacts and either stainless steel jackscrews (Datamate) or sturdy latches (Gecko) to maintain high signal integrity even when exposed to shock and vibration. The Datamate J-Tek option consists of a 2mm-pitch connector plus a 1A-rated, 1mm-pitch FPC and is supplied in a single-ended design fitted with a male connector. The Gecko options have a 1.25mm-pitch connector along with a 0.4A-rated, 0.5mm-pitch FPC available in single- or double-ended configurations. Standard 10-contact assemblies are supplied from stock, but additional assemblies are available on request. The FPCs feature a copper-clad polyimide base with a bonded overlay and a rigid area at each end to aid in connector mounting and are compatible with industry-standard FPC/FFC connectors that accept 0.3mm thickness circuits. They also support a much tighter bend radius than conventional cables, are better suited to dynamic movement when bent, and are rated for operating temperatures extending from -65°C to +150°C. 
May 2020 New Connectivity Products > Additional Connectivity Products
Radiall's new V-Band Millimeter Wave (mmWave) Antenna is designed for outdoor telecom applications and ideal for integration in small cell, backhaul, fronthaul, and WiGig radio systems. This highly directional antenna provides high gain in a small form factor, 32dBi bore sight gain from 57–66GHz, which coincides with its normal axis and helps facilitate quick and easy alignment between radio units (optical or otherwise), and IP67 protection per the IEC 60068-2 environmental standard. It also features an ETSI Class 2 compliant electrical design equipped with unique transmit array technology and enables the quick customization of the antenna's radiating pattern with a low-cost investment, which helps radio manufacturers more easily integrate the product into V-Band systems. In addition, a new 80GHz mmWave antenna capable of extending the application range to E-Band is currently in development and is expected to be released to market by the end of 2020.
TE Connectivity now offers SMI pressure sensors with some of the lowest pressure sensing ranges available. Designed for use in medical and industrial applications that require lower pressure sensing capabilities — including medical ventilation, continuous positive airway pressure (CPAP), and patient monitoring devices, gas flow monitoring, and filter monitoring in variable air volume (VAV) and heating, ventilation, air conditioning, and refrigeration (HVACR) systems — the range features compact, lightweight, robust, and easy-to-integrate packages and delivers high accuracy, long-term stability, and medium-, low-, and ultra-low-pressure sensing capabilities based on piezoresistive technology with signal processing for digital or analog compensated outputs and dual output signals for redundancy and system safety. The amplified analog output provides the fastest response time while the digital I2C interface with 16-bit resolution resolves signals as small as 0.0038Pa and mitigates the need for additional circuitry by allowing multiple devices to connect to the same BUS. Optimized for miniature devices, the new SMI pressure sensors are available in standard JEDEC SOIC-16 packages with vertical or horizontal porting or molded, single-piece SOIC-10 packages with a single vertical port (only available for SM4000/1000).
May 2020 New Connectivity Products > Connector Materials, Accessories, Tools, and Development Kits
Positronic released several new styles of Lightweight Aluminum Backshells for its D-Subminiature connectors, including straight-exit, side-exit, and low-profile designs with thumb grips to facilitate installation and removal in tight spaces. Designed to provide an optimal combination of size, weight, performance, and protection in mission-critical applications, the lightweight aluminum backshells contribute to high-performance connections and long lifetimes, and their shape maximizes internal area to facilitate easier harness assembly. In addition, with no obstruction behind any portion of the connector body, the backshells can be used with many Positronic Combo-D connectors, giving customers even more options for interconnect solutions. The new backshells are available in all Positronic D-Sub shell sizes and with either jackscrews or a quick-disconnect locking device.
Xtalic Corporation received two new patents from the United States Patent and Trademark Office. The new patents (US10,590,514 and US10,590,558) cover six new corrosion-resistant aluminum alloys and manufacturing methods for Al-Zr, Al-Cr, Al-Ni, Al-Co, Al-Hf, and Al-Mg, as well as their anodized versions, and are well suited applications spanning military interconnect housings and electronics to semiconductor and energy storage components and electronics. The six new alloys provide corrosion resistance, add lightweighting properties, and improve the hardness, wear, and durability of critical components and, unlike competitive alternatives, are all applied with an environmentally friendly ionic liquid plating process. They are ideal for anodizing aluminum for corrosion resistance in applications with strict aesthetic appearance requirements, as they won't change the original color of the aluminum, and for achieving lightweighting goals when providing corrosion protection for magnesium components. In addition to supporting color-matching and lightweighting requirements, the new allows also allow users to engineer the material's surface reflectivity, which is often useful in military, security, and defense applications. In addition, design engineers can tailor the properties of the new alloys to meet specific challenges across a variety of other applications by leveraging Xtalic's proprietary Dynamic Nanostructure Control and patented Rapid Alloy Design toolkits.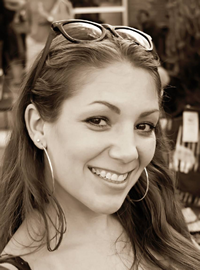 Latest posts by Christine Stieglitz
(see all)