New Connectivity Products: September 2019
Summary coverage of new-to-market connectivity products, including interconnects, wire and cable, cable assemblies, materials, accessories, tools, development kits, and connector-adjacent technologies, such as sensors and antennas. Supplier names are generally linked to product announcements and product names are generally linked to product pages, catalogs, or datasheets.
New Connectivity Products: September 2019
New Connectivity Products: September 2019 > Interconnects, etc.
Fischer Connectors
added nine new products to its award-winning Fischer Freedom™ Series connectivity technology platform, which enables new standards in usability, integration, and versatility and supports application innovation with regard to size, weight, and power (SWaP) requirements, cable management optimization, electronic network integration, and wearable technology. The Fischer Freedom Series launched in June 2018 with the release of the Fischer LP360™ connector, a seven-pin connector with innovative, patent-pending mating, locking, and material features that offers extreme versatility and breakthrough plug-and-use technology. The nine new Fischer Freedom Series connector solutions are all based on this technology and, like the flagship product, feature membrane-sealed contacts for easy cleaning, support easy integration with an ergonomic, low-profile design, enable easy 360° mating with a non-keyed, non-magnetic, quick-release locking mechanism, and add increased functionality to fixed, wearable, and cable-free devices in military, defense, security, medical, instrumentation, industrial, civil engineering, robotics, wearable, and IoT applications. The new USB 2.0 adapter, LED, and flash drive have the Fischer LP360 panel plug directly integrated into their housing, which opens new development pathways for innovative, active solutions to be integrated into electronic networks where power sources and communications and centralized within shared data and power buses and hubs. The new ready-to-use cabled receptacle is made of metal, has seven signal and power contacts, and is designed to maximize the usability, operability, and functionality of robotic systems, IoT devices, smart vests, and other portable and body-worn equipment.
Amphenol ICC
's new Double-Density, Cool-Edge 0.80mm-pitch hybrid connectors provide high-speed, space-saving solutions for board-to-board datacom and telecom applications, including server and storage systems, network equipment, high-end computing systems, baseband equipment, and radio units. The series features a compact, highly configurable, single-piece design with two rows of contacts, between 76 and 248 total contacts, shortened trace lengths compared to standard Cool Edge connectors, and less than half the PCB footprint of 1.00mm-pitch PCIe Cool Edge connectors. It accepts both differential single-ended and power pin contacts to accommodate high-speed and low-speed signal and power, as well as two mating-board thicknesses (1.60mm and 3.26mm), and supports high-speed PCIe Gen 5 transmissions up to 32GT/s, high-speed PAM4 transmissions up to 56GT/s, and a maximum of 70 lanes per connector. Power pins are rated for 2A, signal pins are rated for 0.5A, and a cabled solution for increased system flexibility is currently under development.
Stewart Connector
's new automotive-grade RJ45 connectors are based on proven-reliable technology, comply with SAE/USCAR-2 standards, SAE/USCAR2-6 vibration and sealing requirements, and RoHS directives, and are UL recognized. Designed for next-generation vehicles equipped with Ethernet communication networks, rather than today's CAN bus networks, the range supports high-speed transmission, lighter-weight cables, and operating temperatures up to 100°C and is ideal for use in applications including driver-assist radar, driver-assist cameras, media converters, and gateways. The new automotive-grade RJ45 range features solutions with horizontal and vertical configurations, with 50μin of gold plating on the contacts, with and without LED indicators, and with performance capabilities extending from 1G to 10G in operating temperatures spanning -40°C to 100°C. The new automotive-grade SS74800-132F is a fully shielded, low-profile, single-port, right-angle RJ45 connector with LED indicators that is capable of 1G through 2.5GBase-T performance.
TE Connectivity
extended its DEUTSCH connector product portfolio, which has provided field-proven, high-reliability connectivity in harsh-environment industrial and commercial transportation equipment for decades, with the addition of the new rear-latching, snap-cap DEUTSCH DT Series connectors with wire seal covers. The new two- and three-pin DEUTSCH DT Series connectors are an extension of TE's DEUTSCH DT 2/3 Connector Series and are designed to enhance heavy equipment reliability and improve the trustworthiness and dependability of complex electrical systems in harsh-environment agricultural, mining, and construction equipment. Ideal for inline wire-to-wire, wire-to-device, and wire-to-board connectivity, the series provides improved seal performance, interface compatibility with predecessor parts, and a secure seal that is fully serviceable should replacement be required. Its snap-in-place rear caps provide IP67 and IP68 wire seal protection in standard and shrink tube adapted configurations for historical DT connector requirements, support seamless design transitions from legacy solutions, and enabling rugged connections to a wide variety of solenoid, actuator, sensor, and other device applications in new industrial and transportation equipment designed to enhance safety, productivity, efficiency, and sustainability.
Amphenol ICC
extended its BergStak® product range to include the new 0.50mm-pitch BergStak FX10 board-to-board connector, which is designed to deliver fast data transmission and high signal quality in high-density applications in the automotive, datacom, telecom, medical, and industrial markets. The new miniature, high-speed connector is an authorized second source for Hirose's FX10 Series and is fully compatible with that product offering. It features the standard OIF MSA-100GLH electrical interface, supports 15+Gb/s, offers critical PCB space savings, and is available in a vertical SMT configuration with 144–168 positions, 4.30mm and 6.00mm stack height options, and a hold-down feature that ensures secure, robust connections. It is also halogen-free and RoHS compliant. Ideal applications for the new connector include IP phones, routers, and other datacom and telecom equipment, servers, storage systems, drones, measurement and POS equipment, portable industrial terminals, security systems, test equipment, embedded computers, medical laser systems, display module cameras, and automotive body control units.
PROVERTHA
expanded its range of harsh-environment M8/M12 circular connectors with the addition of the new M8 crimp CF connectors, which provide robust, reliable, space-saving, and interference-free solutions for data transmission in PROFINET and Ethernet network applications that experience high levels of vibration and torsion, including railway, transport, factory automation, and robotic equipment. The new M8 connectors have a compact, four-pin form factor specified by the PROFIBUS User Organization (PNO) according to the PROFINET guidelines in addition to 360° shielding, D coding, IP67 protection, twisted crimp contacts that ensure high network security, and compact all-metal enclosures that protect against harsh environmental hazards and are well-suited for confined installation spaces. The series is rated for 4A, 60VDC, ±100MΩ insulation resistance, 26–22AWG conductor cross-sections, and 4.5mm–6.9mm cable diameters, and operating temperatures extending from -20°C to +85°C.
Amphenol RF introduced a line of fully customizable SMA panel-mount receptacles that exhibit excellent VSWR performance up to 18GHz in microwave application including RF amplifiers, attenuators, couplers, detectors, microwave filters, power dividers and combiners, receivers and transceivers, and solid-state switches. The receptacles are available with passivated or gold-plated machined stainless steel bodies, with various flange styles, including two- and four-hole flange configurations, and with termination options including post contacts with extended PTFE insulators and solder-cup, tab, and slotted contacts. They also have gold-plated machined beryllium copper contacts and either mechanical or epoxy center contact captivation mechanisms to ensure stability and a solid connection to the PCB. Standard sizes are available for quick delivery and custom contacts and dielectric lengths can be selected using the company's user-friendly part number configurator.
TE Connectivity
's new LGA 4189 socket and hardware products provide Intel's next-generation central processing units (CPUs), which support PCIe Gen 4 and four- or eight-multi-processor system architectures, with higher performance and better system scaling. TE is one of only a few validated suppliers of this technology and its flexible tooling enables fast turnaround times for prototypes, so sockets can be in the customer's hands at the earliest stages of the design process. Applications for these socket and hardware products and Intel's next-generation CPUs include servers, storage systems, data center equipment, and high-performance computing systems.
Ironwood Electronics' new 322-pin BGA socket (CBT-BGA-6093) is designed to address high performance requirements for ParallelCell multi-chip packages (MCPs). It has a floating guide for precise ball-to-pin alignment, a stiffener plate that supports the back side of PCBs and allows passive components to be placed via customized pockets, a clamshell lid with an integrated compression mechanism, and a stamped spring-pin contactor rated for 31g actuation force per ball, 0.88nH self-inductance, <1dB insertion loss at 15.7GHz, <30mΩ contact resistance, 4A at 60°C temperature rise, and 125,000 insertion cycles in operating temperatures extending from -55°C to +180°C. It solderlessly mounts on target PCBs using supplied hardware and the smallest possible footprint to allow inductors, resistors, and decoupling capacitors to be placed close by for impedance tuning and is ideal for hand test, temperature cycling, and debugging applications in development and device characterization.
New Connectivity Products: September 2019 > Connector Materials, Accessories, Tools, and Development Kits
TE Connectivity
's new High-Force Termination Application Tooling facilitates the proper termination of high-voltage connectors, drives efficiency, and supports mass production, empowering automotive wire harness manufacturers to achieve four to eight times faster throughput than previous solutions. The new HF20T and HV-20T have a compact, affordable benchtop format, a modular die platform for greater manufacturing flexibility, a fine-adjust feature that allows for faster, more precise crimp height adjustments, and an integrated vacuum system that keep sensitive connections clean and clear of debris commonly associated with high-voltage cable crimping. They also have sophisticated controls, a traceability system, and Ethernet and USB ports designed to support Industry 4.0 and can process wires up to 120mm2 and produce 20 tons (178kN) of crimp force while delivering variable speed control.
SOURIAU – SUNBANK
's new Single-Arm Composite Backshell Series provides robust and reliable strain relief and damage protection for cables and harnesses in harsh-environment civil and military defense and aerospace applications, as well as significant weight savings compared to die-cast metallic versions. The backshells are made with a cost-effective, but highly reliable aerospace-grade thermoplastic composite material that's 40% lighter than aluminum, impervious to electromagnetic disturbances, and ruggedly resistant to high vibration and are available with an RoHS- and REACH-compliant, corrosion-resistant electroless nickel plating. They also have a ratcheting coupling ring with non-corrosive clips that provides audible confirmation of correct coupling and plated versions have a solderable ground lug. The series is compatible with MIL-DTL-38999 Series I, II, and III connectors, is rated for operating temperatures extending from -65°C to 175°C (unplated) or 200°C (plated), and is available in straight, 45°, and 90° configurations.
Fairview Microwave
introduced a new series of waveguide-to-coax adapters designed for use in 5G, telecommunications, satellite communications, point-to-point radio, automotive radar, and terrestrial communications applications. The new adapter series has a lightweight aluminum construction, supports 14 frequency bands extending from 1.7GHz to 26.5GHz, and complies with MIL-DTL-22641 electrical performance and mechanical dimension specifications. It is currently available in 14 different waveguide sizes ranging from WR-42 to WR-430, in addition to UG square/round cover and CMR/CPR flange types, and with SMA female, N-Type female, and 2.92mm female connectorized designs, as well as end-launch connector configurations, which amounts to a combined total of 50 models.
New Connectivity Products: September 2019 > Additional Connectivity Products
TE Connectivity
's new wideband MIMO antennas are especially designed to bring 5G technology to the rail industry to provide operators and passengers with higher speed and higher quality data communications capabilities ranging from accurate, real-time travel information to interruption-free Wi-Fi for even the most demanding video applications. Designed for ceiling or rooftop mounting on over- or underground trains, as well as metros, trams, and busses, the new antennas incorporate one or two antenna elements for MIMO operation, support frequencies extending from 698MHz to 6,000MHz, and are also suitable for legacy communications (i.e., 2G, 3G, and 4G), Wi-Fi, WiMAX, GNSS, and GSMR. Both ceiling- and rooftop-mounted versions provide IP69 protection against dust, water, and even high-pressure water jets and comply with EN 45545-2 and EN 50155 standards. The rooftop antennas have DC-grounded antenna elements to provide voltage protection in case of catenary line drop up to 40kA, 100ms, and internal ground plates that allow them to be mounted on non-conductive surfaces. The ceiling-mountable, circular, onboard Wi-Fi antennas have a low, 30mm height profile, offer up to 4×4 MIMO Wi-Fi coverage, support frequencies extending from 2.4 to 2.5GHz and 4.9 to 6GHz, and are already compatible with the IEEE 802.11ax standard, which should be fully deployed later this year. They also offer data throughput that's at least four times faster than earlier antennas in congested environments, as well as 40% higher peak data rates, are supplied with EN45545-compliant flame retardant CS23 coax cables, and can also be mounted on non-conductive surfaces.
HUBER+SUHNER released the new Direct GPS-over-fiber (GPSoF) solution — the world's first truly copper-less link to the antenna, which allows a fiber optic connection to be made directly onto an antenna and eliminates the need for a separate power line, reducing the amount of required hardware and enhancing overall operational effectiveness. This new capability has the potential to revolutionize the remote antenna landscape by addressing power constraints at the remote end and is expected to provide significant benefits to installations within the aerospace and defense markets. Power-over-fiber eliminates power constraints by using available fiber optics to deliver the required power to the antenna, which both eliminates the need for external power sources at the remote end — a common challenge in shelter and other command and control applications within the defense industry — and adds all of the benefits of fiber optics into a conventional radio frequency link. The new Direct GPSoF solution employs laser safety features that are compliant with IEC laser standards and Q-ODC connectors that ensure ruggedized connections using single-mode fibers and enable link distances of up to 10km.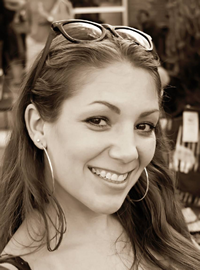 Latest posts by Christine Stieglitz
(see all)