New Adventures Ahead for Martin Slark and Molex
Martin P. Slark is stepping down from his role as CEO. That doesn't mean he's going to be taking it easy, though.
Legendary Molex leader Martin P. Slark will retire from his role as the company's chief executive officer (CEO) in November. Slark started with the company in 1976 in England and has since held numerous leadership positions all around the world. He served as president of Molex's Far East South Region from 1988 to 1994, as president of the Americas Region from 1994 to 1999, and as an executive vice president from 1999 to 2001. He then took over as Chief Operating Officer (COO) until 2005, when he assumed the role of CEO. Molex's current COO, Joe Nelligan, will become CEO upon Slark's departure.
Slark's vision and leadership helped shape the company's growth and identity during critical times of technological change. He oversaw numerous key developments, including the expansion of the company's expertise through strategic acquisitions, the doubling of the company's revenues, profits, and workforce, and the 2013 acquisition of Molex by Koch Industries. Today, Molex touches nearly every market and leads innovation in areas ranging from medicine, defense, and infrastructure to autonomous vehicles and consumer devices.
It's typical for leaders in the connector industry to continue to stay active in retirement, and no one who knows Slark would expect him to do otherwise. We checked in with our friend to find out what he has in store for the future, and to look back on a career filled with innovation and adventure.
Ron Bishop: You joined Molex in 1976. The company was very small and was just beginning to move to international markets. How does that compare to the Molex of today?
Martin Slark: When I joined Molex, its revenues were just over $40 million and we had 800 employees in five countries around the world. We are now on our way to being a $10 billion company, and we already have more than 46,000 employees in 40 countries. 
Molex was founded by the Krehbiel family, and I believe we have been able to maintain a culture with deep respect for people — employees, customers, and suppliers, as well as a commitment to innovation and integrity. The company has always put its employees and its customers ahead of short-term profits. As a result, we have many long-service employees who are very loyal to the company. Without question, the key to our success has been our people and our focus on the customer.
You have been the CEO for the past 13 years. What do you believe the company's biggest accomplishments were during your term as CEO?
There are two things that stick out in my mind. The first was our transition from a geographic structure to a global-market focused structure. That was a big change for us and our customers, but has worked out very well as the market has continued to change. The second was our transition from being a public company to being privately owned by Koch Industries, Inc. The first transition helped us more effectively service our global customers, and the second transition was accomplished without headcount reductions.
Not counting the position as CEO, what was your favorite assignment during your 42 years at Molex and why?
My whole family really enjoyed the 10 years that we spent in Asia. I spent the first four years in Hong Kong running our New Venture operations and then six years in Singapore as president of our South Asia region. The time in Asia was a great development opportunity for our whole family, and it was a period of significant growth for Molex. During the time I was in Asia, Molex opened its operations in China, India, and several other developing countries. Having the opportunity to live and work in such a broad range of diverse cultures was extremely beneficial to our personal growth and my professional growth, as well as being enjoyable for our entire family.
Molex was a public company when it was acquired by Koch. Now it is private and owned by a much larger entity. In your opinion, is that an advantage or disadvantage and why?
I believe it is a significant advantage. Being private gives you the opportunity to invest in long-term opportunities without the need to justify your results every quarter. As a private company, we are not required to disclose our results publicly, and this gives us a competitive advantage.
Molex is particularly lucky to be part of Koch Industries, Inc., one of the largest and most successful privately held companies in the world. Since acquiring Molex, Koch has more than doubled the size of the company and we see continued investment in our core connector business, our new solutions strategy, and synergistic projects with other Koch companies.  Today there is no shortage of growth opportunities for us and no lack of capital to invest in those opportunities. We are a far stronger and more capable company today and our competitors have no idea what we are doing.
We understand that a long-term Molex employee, Joe Nelligan, will succeed you as CEO. It would not seem unreasonable if Koch had selected a Koch insider to run Molex. Can you share with us the reasoning behind Joe's selection as CEO?
Joe was selected because he is the best qualified person to take on the role of CEO. Joe has been with Molex for over 30 years and has broad-based experience in many aspects of our business. He is a University of Notre Dame Engineering graduate and a University of Chicago MBA graduate. He has held positions in engineering and product management and has managed operations in the US and Asia. I strongly believe that Joe is uniquely qualified to maintain Molex's culture and lead the company to the next level. As a member of Koch's board of directors since 2017, I know that view of Joe's capabilities is widely shared by Koch's leadership team.
In your opinion, where will Molex be in 10 years from now in annual sales, markets served, and products manufactured?
We expect that Molex will continue to double in size every five to six years. We intend to further develop our solutions strategy and to create more value for our customers and other Koch companies.
Is there anything left undone that you wish you had completed before retirement?
This list would be far too long for an article. I am very confident that my successor will make up for all of my shortcomings. (No pressure, Joe!)
What will retirement look like for Martin Slark? Golf four to five days per week?
I am going to stay on the Koch Industries board and will continue to help Koch with their investments in the technology sector. In addition, I also serve on the boards of three other organizations: Liberty Mutual Insurance, Northern Trust Bank, and the Hub Group. Many people also know that I am dyslexic and am very involved with Landmark School in Boston, which helps dyslexic children. During the next chapter of my life, I hope to have more time to spend with my family and to give back to society.
Will you leave a legacy at Molex?
Most people know that I am an avid runner and have completed 20 marathons. I often tell our employees that my priorities are my health, my family, and then my job. If people remember those priorities in that order and that is my legacy, I would be very happy. It has been an honor and privilege to work for Molex, and I will leave with a great sense of pride.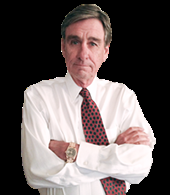 Latest posts by Ron Bishop
(see all)