USB Connector Products
This week's Product Roundup highlights USB connector products from leading suppliers.
JAE
's DX07 Series USB Type-C connectors feature a user-friendly reversible interface, high mechanical strength, a durable locking mechanism, and superior electromagnetic compatibility (EMC) characteristics, are rated for 10,000 mating cycles, and are compatible with USB 3.1 Gen 2 10Gb/s SuperSpeed communication and power delivery protocols. Available options include standard and slim plugs, on-board and mid-mount receptacles in space-saving dual-row SMT or hybrid styles, short and long waterproof receptacles for applications that require IPX8 performance, cable harnesses with hood downsizing, and cable harnesses with screw locks for enhanced robustness.
Stewart Connector
's USB 3.0 and USB 2.0 connectors are compact, reliable, robust, and versatile. Both series of Type-A, plug-and-play connectors feature EMI shielding, gold-plated contacts (30µin), and through-hole solder terminations, are rated for operating temperatures extending from -55°C to 85°C, and are compatible with reflow and wave soldering. USB 3.0 solutions deliver data rates of up to 5Gb/s, can handle up to 1.8A per contact, are backward compatible with USB 2.0 and 1.0 connectors, and are available in single- and dual-port configurations with horizontal orientations. USB 2.0 solutions deliver data rates of up to 480Mb/s, can handle up to 1.5A per contact, and are available in single- and dual-port configurations with vertical and horizontal orientations. Ideal applications for the series include IoT devices, servers, laptop and desktop computers, printers, scanners, gaming devices, and diagnostic equipment.
Power & Signal Group
stocks USB Smart Charging Modules from Molex. Ideal for use in automotive infotainment applications, these compact, single- and dual-port smart charging modules provide enable fast, effective charging, are available in several off-the-shelf models designed to eliminate extra tooling and engineering support costs, and can also be custom designed to suit individual device profiles and maximum power requirements in more demanding applications, like luxury vehicles. Off-the-shelf models consist of preassembled active USB chargers with PCB routing and mechanical enclosures designed to drop into existing rocker switch panels. They comply with Battery Charging 1.2 standards for charges up to 5VDC and 1.5A and are compatible with Molex automotive I/O connectors for added reliability and reduced overall costs. Custom models offer reverse polarity protection from shorts, a current-limiting switch with an integrated intelligent chip that regulates electrical current according to manufacturers' specifications, voltage compensation for USB cables, and transient suppression capabilities that protect devices from subsystem voltage and current spikes, and are approximately 30–40% smaller than competing solutions.
GCT
's new USB4085 USB Type-C connector was designed to hasten USB Type-C adoption in power charging designs with pricing at just $0.50 apiece in 10,000-piece volumes. Based on a modified 16-pin configuration, the connector offers the full charging capabilities of USB Type-C with streamlined USB 2.0 functionality, has a double-layer stainless steel shell with four PCB retention/grounding posts to provide extra strength and integrity on the board, stands just 3.4mm above the PCB and measures less than 10mm in overall length, and is rated for 10,000 mating cycles. Additional resources include 3D models, product drawings, PCB layouts, and product samples.
BTC Electronics
offers Amphenol Pcd's USB 3.0 connectors with USB Field, which allow users to insert a standard USB 3.0 cordset into a metallic plug that provides robust protection from shock, traction, dust, and fluids without the hazards of in-field cabling and grounding. These metallic plugs easily connect with receptacles using a MIL-DTL-38999 Series III tri-start threaded coupling mechanism, feature an anti-decoupling device for high-vibration applications, offer both EMI and IP68 protection, and are rated for a minimum of 500 mating cycles. They are currently available in shell size 15 with two mechanical coding/polarization possibilities and are also offered as a plug and cordset combination.
Omnetics Connector Corporation
's Quick Lock USB 3.0 Micro-D Connector Series delivers secure, ruggedized, high-speed connections with up to 5Gb/s data transfer speeds in applications including cloud backups, portable instrument downloads, high-speed digital cameras, and surveillance equipment. The series also provides battlefield-proven IP68 protection when mated, is both four times lighter and 32% smaller (with regard to panel area footprint) than ruggedized USB connectors in the MIL-DTL-38999 circular standard package, and can be directly soldered to PCBs. Each connector features copper alloy contacts with gold over nickel underplate, high-temperature thermoplastic insulators, aluminum housings with a black nickel finish, halogen-free polyurethane cable jackets, black polyamide overmolds, 50A silicone rubber gaskets, and stainless steel hardware. Ratings include operating temperatures spanning -40°C to 85°C, IR reflow temperatures up to 255°C, and 500-mating-cycle durability.
Kensington Electronics
stocks CONEC's dual-port, IP67 USB 2.0 connectors. Designed for easy, back-panel-mount installation in applications including telecommunications equipment and wireless controllers, the series features UL94 V-0 housings with a compact, space-saving design, gold-over-nickel-plated contacts, solder terminations, and Type-A coding. The receptacles are compatible with panel thicknesses up to 3.2mm and are rated for a maximum of 1.5A at 25°C, 30V, and operating temperatures extending form -40°C to +85°C. They are also RoHS compliant and deliver IP67 protection with the use of a corresponding dust cap.
Amphenol ICC
's Rugged USB 3.0 connectors provide IP67 protection in both mated and unmated conditions, meet military-performance-level shock and vibration requirements, are rated for operating temperatures extending from -55°C to +105°C, and achieve data rates up to 5Gb/s. They are available in vertical and right-angle single-port and stacked configurations, mate with standard USB 2.0 and 3.0 Type-A plugs, and are RoHS compliant, and are ideal for use in a wide range of harsh-environment telecom, datacom, consumer, industrial, instrumentation, medical, and automotive applications, including base stations, switches, routers, appliances, lighting, metering, vending machines, diagnostic equipment, and navigation systems.
ODU AMC® High-Density connectors
deliver high-performance, high-reliability power, signal, and data transmission, weight and space reductions, and easy handling in next-generation military applications, including helmet-mounted cameras, group voice and data radios, headsets, GPS antennas and navigation modules, battery packs, computers and personal area networks, wrist-worn displays, rifle mounted systems, and unmanned vehicles. They have a rugged, miniature form factor that weighs up to 70% less than competing solutions and are available in four shell sizes with 10–18.5mm diameters, 2–40 contacts, and numerous high-density configurations capable of delivering power (up to 15A), signal, and data (via USB 3.1 Gen 1, USB 2.0, Ethernet, and HDMI protocols) in a single connector. They also have 360° shielding for trouble-free data transfer, a breakaway function for maximum safety, and a non-reflective surface, and are keyed and color-coded for simple, reliable handling, sealed to IP68, resistant to salt spray, and rated for up to 5,000 mating cycles and operating temperatures extending from -51°C to +125°C. The series can terminate to PCBs, flex-layer, and rigid-flex solutions and is tested to military standards. Fully integrated cable assembly solutions are available, as are a full suite of complementary products and services.
Newark element14
stocks TE Connectivity's IPX8 USB Type-C receptacles, which deliver USB 3.1 Gen 2 performance of up to 10Gb/s, 100W, and 5A in harsh environment applications including consumer electronics, industrial, medical, and telecommunications equipment. These surface-mount connectors have right-angle orientations, 24 gold-plated copper alloy contacts, enhanced board retention mechanisms, and EMI and IPX8 protection features, and are RoHS compliant and supplied on either cut tape or full reels.
Samtec's USBR-A and USBR-B Series high-retention USB 2.0 connectors comply with UL's Class 1, Division 2 minimum withdrawal requirement of 15N and have an orange color-coded insulator to differentiate them from standard-withdrawal-force connectors, which typically have white or black plastic insulators. The Type-A interface is available in single-row shell configurations with standard through-hole, surface-mount, vertical/upright through-hole, and vertical through-hole terminations and double-row shell configurations with through-hole terminations. The Type-B interface is available in single-row shell configurations with standard through-hole, surface mount, and vertical through-hole terminations, and both series are available with gold-flash or selective gold/tin plating options.
Interested in a specific market? Click a market below for current articles and news.
Automotive, Consumer, Industrial, Medical, Mil/Aero, Datacom/Telecom, and Transportation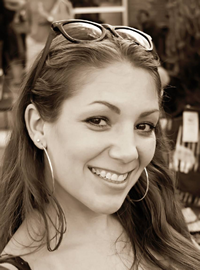 Latest posts by Christine Stieglitz
(see all)