What is a D-sub Connector?
Meet the Connector: D-sub Connectors
D-subminiature connectors, also called D-subs, are a type of electrical connector used for analog and digital video signals, serial and parallel data transmission, and high-reliability applications. The connector is named after its D-shaped metal shell.
James D. Cannon, the founder of ITT Cannon, invented the D-sub. The company introduced the connector design in the late 1950s as a smaller and more compact alternative to the larger connectors in use by the emerging computer industry. D-subs quickly became a standard interface for a multitude of electronic devices across markets due to their reliability and ease of use.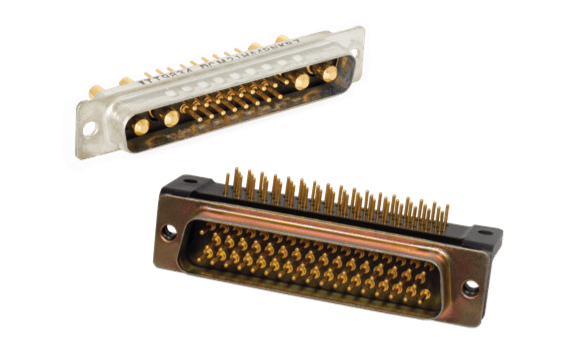 Technical Details and Form
D-sub connectors consist of two or more parallel rows of pins or sockets enclosed in a metal or plastic shell that provides mechanical support and shielding. The pins are arranged in a staggered pattern to ensure proper alignment during mating. Each pin in a D-sub connector has a specific function, and the pin assignments can vary depending on the application. Common uses include transmitting video signals, serial data, parallel data, and various control signals.
The standard D-sub connector has a single row of pins or sockets on each side. It comes in five basic sizes: D-subs 9, 15, 25, 37, and 50. Connectors with high-density, mixed-layout, and custom configurations also exist. The larger size of the connectors compared to other interface types allows for better mechanical stability and robustness.
The high-density and double-density version packs more pins into the same-sized shell by using smaller pins and a staggered layout.
Mixed-layout or Combo D-sub connectors feature a combination of pins and sockets on the same connector, enabling signal and coaxial or high-power contacts to be used in the same connector.
Variations and Specialized D-sub Connectors
D-sub connectors come in multiple variations, including:
Filtered D-sub connectors incorporate filters to suppress EMI or protect against transient voltages.
Waterproof or sealed D-sub connectors provide additional protection against moisture and dust in harsh environments.
D-Sub connectors can also be specified with high-temperature capabilities, allowing them to withstand extreme operating conditions.
Design Notes
Standardization
The D-sub connector does not refer to a specific standard but rather to the general design and D-shaped form factor of the connector shell. It was originally standardized by the Defense Supply Center in the United States and later adopted by various organizations and industries for different purposes. They can be qualified for defense (MIL-DTL-24308) and space applications (NASA Goddard [GSFC] & ESA) under MIL-STD-348.
Several standards specify the pinout and usage of D-sub connectors for specific applications, including:
RS-232 (Recommended Standard 232): This standard defines the pinout and electrical characteristics for D-sub connectors used in serial communication (e.g., computer serial ports). The most common variant is the COM serial port is the DE-9 connector, which has nine pins.
VGA (Video Graphics Array): The VGA standard specifies the pinout and electrical characteristics for D-sub connectors used for analog video signals, typically for computer monitors. The most common variants are the DB-25 for the VGA parallel port, and DA-15 connectors, which have 15 pins for the bridge between the graphics card and the display.
Size: D-sub sizes and configurations are standard and common; it is the contact style that makes them unique. They come in crimp, straight, and right-angle PCB mount, solder, IDC, wire wrap, press-fit, and other styles.
The number in the connector's name indicates the number of pins or sockets present in the connector. For example, a DE-9 connector has nine pins arranged in two rows, while a DB-25 connector has 25 pins arranged in three rows. In a standard d-sub, you only get three rows in a 50 pin. A high-density version has three rows in all but 78, which is four rows. The second letter indicates the shell size.
Locking mechanisms: D-subs are known for their robustness, reliability, and ease of use. The connectors can be specified with threaded bolts or thumbscrews to securely fasten the cable to the connector. All D-subs come with a mounting hole, which can be a plain hole, a threaded insert, have a jack or thumbscrew, or a float bushing, standoff, or board lock, depending on the needs of the application.
Shielding: D-sub connectors provide reliable electrical connections and shielding against electromagnetic interference (EMI). The connector's metal shell acts as a shield, minimizing signal degradation and protecting sensitive electronics from external noise sources.
Frequency Range: For D-sub connectors used in analog video applications, such as VGA connections, the frequency range can extend up to several hundred megahertz (MHz) or even into the gigahertz (GHz) range. VGA signals typically operate within the range of 30 MHz to 300 MHz. For D-sub connectors used in digital data transmission, such as RS-232 serial communication, the frequency range is typically much lower, typically in the range of several kilohertz (kHz) to a few megahertz (MHz).
Dielectric Withstanding Voltage: Varies from a few hundred to a few thousand volts.
Temperature Range: Typically, -55 °C to +105 °C, although D-subs for use in harsh environments have an extended temperature range of -65 °C to +125 °C or even higher.
Durability: Varies from a few hundred to a few thousand mating cycles
Markets, Sectors, and Applications
Military and Aerospace, Industrial, Datacom, 3C, Medical
D-sub connectors are commonly used in computer hardware, where they provide connectivity for monitors (VGA or DVI), serial and parallel ports, and various other peripherals. In industrial automation, D-sub connectors facilitate communication between control systems, sensors, instrumentation, and actuators. They are also employed in audio/video equipment, telecommunications equipment, medical devices, automotive electronics, and military and aerospace systems.
Related products:
Subscribe to our weekly e-newsletters, follow us on LinkedIn, Twitter, and Facebook, and check out our eBook archives for more applicable, expert-informed connectivity content.
Latest posts by Amy Goetzman
(see all)