Mil-Spec Circular Connectors Product Roundup
This week's Product Roundup highlights mil-spec and mil-spec-style circular connectors from leading suppliers.
Mil-Spec Circular Connectors 
ITT Cannon's CGE Series connectors are the European military standard for high-power/low-voltage applications, including military vehicles, and are also well-suited for use in heavy-duty environments. Derived from VG95234 reverse-bayonet connectors, the CGE Series is fully approved to the European VG96929 military standard and intermateable with other connector series designed to the standard. These single-pole, mil-spec circular connectors have aluminum alloy shells with robust, quarter-turn, reverse-bayonet coupling mechanisms that enable quick and easy assembly, offer outstanding vibration resistance, and provide visual, tactile, and audible confirmation of proper mating to ensure secure connections. The series also features two PTFE insulators, a spring retention system that enables the unlimited exchange of contacts, and IPx8 sealing rings that deliver watertight performance at up to 1 bar of pressure, or down to depths up to 35', when mated. It is available in five shell sizes (16, 18, 22, 28, and 32) and five shell styles with optional shielding (wall-mount receptacle, box-mount receptacle, cable-connecting receptacle, straight plug, and right-angle plug), as well as with four shell plating options: the VG-standard cadmium plating and three RoHS-compliant alternatives (black ZnCo, green ZnCo, and blue-gray ZnNi) and crimp contacts made from copper or copper alloy, finished with hard silver, and plated with gold for high-reliability, high-conductivity performance. CGE Series mil-spec circular connectors are suitable for use with cable sizes spanning 4AWG (25mm2) to 50MCM (240mm2) and rated for 50VAC, 225–950A, and 500 mating cycles in operating temperature range extending from -55°C to +150°C.
TE Connectivity's DEUTSCH DL Series bayonet-coupling circular connectors are qualified to the MIL-DTL-83723 Series III standard and built to ease and hasten installation, withstand extreme environmental conditions, and provide high-reliability performance in applications including military and commercial aircraft, communication systems, and high-temperature industrial equipment. The series features scoop-proof aluminum shells in square flange, jam-nut, straight plug, and RFI plug styles with black anodized, electroless nickel, or olive drab cadmium over nickel plating, passivated stainless steel bayonet pins, visual confirmation of proper mating, and anti-friction washers that maintain constant mating force. It also features rigid plastic dielectric insulators, silicone-based elastomer seals, RFI shielding, closed-entry socket inserts for positive pin alignment, a rear-release crimp contact system for superior contact stability, copper alloy contacts plated with 50µin selective gold, raised moisture barriers around each pin for individual contact sealing, and triple-wire sealing over a wide range of wire diameters. DEUTSCH DL Series connectors ruggedly withstand shock, vibration, and operating temperatures extending from -65°C to +200°C, are rated for 500 mating cycles and up to 600VACrms/850VDC (Service Rating I) or 900VACrms/1,250VDC (Service Rating II), and are intermateable with standard bayonet MIL-DTL-36500 connectors.
Cinch Connectivity Solutions' Omega Series connectors are available in a wide variety of configurations that are all qualified to the MIL-C-26500 general-purpose specification and designed to deliver reliable connections in high-vibration, harsh-environment military and aerospace applications. All variants in the series utilize the MIL-C-26500 mating face and employ shielding and environmental sealing mechanisms, and select variations are also qualified to Boeing's BACC45 general-purpose and BACC63 high-performance connector specifications. The series offers 10 shell sizes extending from 8–28 with bayonet and threaded coupling styles and pin and socket contacts, as well as a range of accessories including Omega contacts, sealing plugs, insertion and removal tools, and support cables and wires designed to prevent the twisting and pulling of Omega cable assemblies. Subseries include vibration-proof plug connectors qualified to BACC63CB or BACC63BN, vibration-resistant receptacles qualified to BACC63BV or BACC63CC, square flange receptacle connectors qualified to BACC45FM and BACC45FN, plug connectors qualified to BACC45FS and BACC45FT, self-locking plug connectors qualified to BACC63BP, single-hole-mount receptacle connectors, limited-wiring-space receptacle connectors, and short receptacle connectors.
PEI-Genesis stocks SOURIAU's 8D Series MIL-DTL-38999 Series III connectors, which are qualified to MIL-DTL-38999, EN3645, and BACC63 specifications and available in an extensive variety of configurations for broad application suitability. Designed for harsh-environment military and commercial aerospace, defense, industrial, and transportation applications, these mil-spec circular connectors feature 360° EMI shielding, IP67 sealing on each contact cavity, scoop-proof contacts, a metallic contact retention clip, a self-locking quick-coupling mechanism for easy installation, visual mating confirmation, and rugged resistance to high vibration (44g) and operating temperatures up to 200°C. SOURIAU's versatile 8D Series is available in nine shell sizes spanning 9–25, seven contact sizes spanning #4–26, and 54 MIL-DTL-38999-qualified layouts with up to 128 gold-over-nickel-plated copper alloy contacts and PC tail, crimp, solder cup, and wire wrap terminations. The 8D Series also offers aluminum, stainless steel, titanium, bronze, and lightweight composite shells; five plating materials: nickel, black zinc nickel, green zinc cobalt, cadmium olive drab, and passivated stainless steel; inserts equipped with multiple signal, high-power, and high-speed contact technologies, including coax, quadrax, twinax, triax, ELIO fiber optic, and expanded beam; and accessories including protective caps, backshells, and tooling. Additional options include hermetic versions, current ratings up to 850A, voltage ratings up to 230V, and endurance up to 1,500 cycles.
Allied Electronics & Automation stocks Amphenol Aerospace Tri-Start MIL-DTL-38999 Series III connectors, which are ideal for use in high-reliability, harsh-environment applications including missile and ordnance systems, command, control, communications, computer, intelligence, surveillance, and reconnaissance (C4ISR) systems, and military and commercial aviation and aerospace equipment and vehicles. Designed for extreme versatility, the series is available in an extensive and ever-expanding range of configurations designed to meet various applications, including variants with aluminum, stainless steel, and composite shells. Tri-Start MIL-DTL-38999 Series III connectors with aluminum or stainless steel shells employ several different design features and plating options for increased protection against EMI, corrosion, extreme vibration, ingress, leakage, and high temperatures up to 200°C. They have quick-coupling nuts that mate and self-lock with a simple 360° turn; solid metal-to-metal couplings, grounding fingers, and thicker wall sections for superior EMI shielding (≥65dB at 10GHz); scoop-proof shells with recessed pins to prevent contact damage; interfacial seals to prevent electrolytic erosion; and Faraday Cages for ESD protection. They are also available with hermetic sealing, integral strain relief, deep-reach shells for thick panels, and stand-off flange shells for PCB attachments. Tri-Start MIL-DTL-38999 Series III connectors with lightweight, corrosion-resistant composite shells deliver the same high performance as the series' metal-shell options, but with 17–40% weight savings compared to aluminum shell solutions and 60–70% weight savings compared to stainless steel solutions and extended-life contacts rated for a minimum of 1,500 couplings. In addition, stainless steel variants are also qualified to BACC63DB and BACC63DC specifications and composite variants are also qualified to BACC63CT and BACC63CU specifications.
Digi-Key Electronics stocks TE Connectivity's DEUTSCH ACT Series MIL-DTL-38999 Series III composite-shell connectors, which are lightweight, corrosion-resistant, and qualified to both MIL-DTL-38999 Series III and EN3645 specifications. These mil-spec circular connectors have a triple-start coupling mechanism with an anti-decoupling ratchet for rugged resistance against high vibration, a grounded plug for superior EMI shielding, and 100% scoop-proof contacts for blind-mate coupling capabilities. Designed to provide extreme reliability and versatility in a broad range of harsh-environment military and aerospace applications, TE's DEUTSCH ACT Series connectors offer a variety of options including straight plug, square flange, and jam-nut receptacle configurations in nine shell sizes spanning 9–25; electroless nickel and olive drab cadmium plating materials rated to withstand up to 2,000 hours of salt spray; and more than 50 insert arrangements made of thermoplastic and fluorinated silicone elastomer and designed to accommodate 2–128 size #22, 20, 16, or 12 power, signal, coax, and/or twinax contacts. The composite-shell series also offers six keying options and fluorinated silicone elastomer O-rings and accepts 0–37 power pins rated for 5–43A, 0–128 signal pins, and several wire gauge ranges extending from 10–8AWG to 28–22AWG. It is rated for 1,500 mating cycles in operating temperatures extending from -65°C to +200°C and available in variants designed for compliance, partial compliance, or non-compliance with RoHS and EU ELV directives.
Mil-Spec-Style Circular Connectors
LEMO's M Series connectors for harsh-environment military, aerospace, defense, avionics, and motorsport applications are commercial off-the-shelf (COTS) versions of D38999 mil-spec circular connectors. The series satisfies most of the MIL-DTL-38999 specification requirements, and is tested to MIL-STD-810F to verify its ability to withstand a variety of environmental stresses and climatic condition, but employs smaller shells for the same number of pins than standard MIL-DTL-38999 products. M Series connectors have compact, lightweight shells equipped with triple-start ratchet coupling mechanisms for quick and easy mating and rugged resistance to even severe shock and vibration. The shells are also shielded against EMI and resistant to oil, fuel, and corrosion. They are available in 12 styles and six keying options and can be made from brass or aluminum alloy materials, plated with dark-colored chrome or nickel, and loaded with 2–114 crimp or print contacts, fiber optic contacts, or even a USB interface. The series also offers an optional, anti-vibration flange fixing for additional protection and a threaded option that supports standard MIL-DTL-38999L backshells. It is rated for operating temperatures extending from -50°C to +200°C. In addition, all M Series parts have laser-engraved part numbers and production batch numbers to ensure full traceability from raw materials to end products.
Smiths Interconnect's MIL-DTL-38999 Differential Quadrax/Twinax Connectors and Cable Assemblies support data rates in excess of 2Gb/s data and bandwidth up to 3GHz, and can be driven via matched impedance differential pair interconnections for reliable, high-speed, board-to-board data transfer. Designed to enable the reliable, high-speed transfer of digital audio and video signals, the series is ideal for use in high-speed Ethernet, FireWire, and Fibre Channel applications within the commercial aerospace, defense, space, and railway markets, including military and commercial avionics, engine, satcom, and soldier communications systems, intelligence, surveillance, and reconnaissance (ISR) systems, radar systems, satellite launchers, ground systems, and geostationary-, medium-, and low-Earth-orbit satellites. It also offers superior performance in high-speed matched impedance data-on-demand applications. Its signal-to-signal and signal-to-shield characteristic impedance is maintained throughout the connector pair, and its true twinaxial connector interface maintains signal integrity while minimizing jitter and data rate errors. Various shell styles, sizes, material/plating configurations, insert arrangements, contact types and terminations, and polarizations are also available to support broad design flexibility. In addition, although the series is built for equivalence with D38999 mil-spec circular connectors, it is not qualified to the D38999 specification.
Amphenol Pcd's TV μCom (pronounced "Microcom") 10G+ Series connectors are designed to address current military electronics trends, including miniaturization, high-speed performance, and extreme resistance to harsh environment conditions. The series features robust 38999-Series-III-style size 11 shells, provides Cat 6A connections according to TIA568C.2 and ISO/IEC11801 standards, exceeds 10Gb/s Ethernet performance requirements per the IEEE 802.3an standard, and delivers environmental performance based on MIL-DTL-38999 Series III military specifications. The series features four totally insulated pairs with minimum crosstalk, patented interfacial shapes designed for minimal perturbation, a machined brass contact module, and gold-plated, machined solder and crimp contacts based on the design and performance of M39029/77#16 and M39029/76-425#16 38999 coaxial contacts. Material and style options include marine bronze shells or aluminum shells with olive drab cadmium, nickel, black zinc nickel, or custom plating materials in standard, standoff, and reduced flange standoff receptacle, jam nut receptacle, and plug styles. It is rated for 1,500Vrms dielectric withstanding voltage, a maximum wire size of 24AWG for solder contacts and 28–24AWG for crimp contacts, and operating temperatures extending from -55°C to +125°C. The series also provides IP68 protection in both mated and unmated conditions and is RoHS compliant. Ideal applications for the TV μCom 10G+ Series extend across the military, aerospace, naval, and rail industries and include C4ISR systems, battlefield and shipboard communications, ground vehicles, and in-flight entertainment systems. Corresponding tools and accessories include special backshells for heat-shrink sleeves and PC glands, spare contacts, a contact positioner, a contact removal tool, a standard crimping tool, standard and self-closing metallic caps, and silicone caps.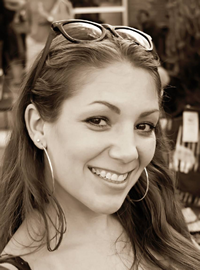 Latest posts by Christine Stieglitz
(see all)