Small Robotic Military Devices Go Where Soldiers Can't
Throwbots, insectoid robots, and other small tactical robotic devices can act as advance teams on missions. These micro-machines can reach hazardous or inaccessible areas to collect and transmit vital information.
A soldier with a good throwing arm is a valuable asset in battle. Hand grenades — first invented in the 8th century for use by Byzantine warriors — were an indispensable military device in World War II, when these small explosive devices could be easily tossed into enemy territory. Today, that same delivery method can be used with a non-lethal, robotic military device known as the Throwbot.
This micro-sized wheeled robot, developed by Recon Robots, is made for soldiers to throw into areas with hazards ranging from land mines and enemies to rugged or inaccessible terrain and, as such, is designed to withstand the kinds of shock and vibration that electronics are commonly exposed to in military operations. The Throwbot can collect audio or visual information and transmit it to a remote-control unit. It is also equipped with infrared optical technologies so it can operate in low-light conditions. Users can make informed tactical decisions based on data collected by these spy robots and conduct activities without first risking soldiers to provide advance information. In addition, due to its small size and weight, soldiers can easily carry this device in their packs.
The Throwbot is just one example of the new generation of small tactical robots. Others don't require the soldier to throw them into action; instead, they can be animated via remote control or programmed for automated operation. Boston Dynamics makes a range of small robots for harsh operating environments. Funded in part by the Defense Advance Research Projects Agency (DARPA), this company has developed several generations of small robots. One project, the four-legged, canine-like Spot, is used by bomb squads, police departments, and SpaceX to gather information in dangerous areas and deliver data via Wi-Fi. The company's smaller projects include robotic "insects" such as the six-legged RHex, a device designed to travel easily over rough terrain. Its form resembled a cockroach and its low-profile made it highly maneuverable. However, the smallest version of that device weighed 19lbs (8.6kg). There is a strong need to reduce the size and weight of military equipment, to ease soldiers' burdens and reduce the costs associated with moving equipment. This need, along with continual reductions in component sizes, is pushing innovation in a smaller direction.
Compressible robots with articulated mechanisms (CRAMs), inspired by cockroaches and developed by the University of California Berkeley in conjunction with the U.S. Army, are tiny robots that can compress to squeeze into tiny spaces. These devices not only take inspiration from the insect's form and methods of movement; they are similar in size and can provide situational awareness in hard-to-access areas, such as enemy-controlled areas or in rubble zones after disasters.
DARPA is currently supporting the development of another, even smaller tactical robotic insect, the Short-Range Independent Micro-robotic Platforms (SHRIMP) project. This micro-sized robotic insect will be produced by Honeywell International Inc. Automation and Control Solutions (ACS) and Rutgers University. In addition, at the Massachusetts Institute of Technology (MIT), researchers have developed an insect-sized drone with soft actuators that act as wings and can beat at a rate of 500 times per second. Impressively, this robot is just a little larger than a mosquito.
Small tactical robotics, whether they operate on land or in the air, depend on electronic components that push the goal of optimizing size, weight, and power (SWaP) to new extremes. These devices must also meet military requirements for performance and reliability, particularly in the demanding conditions they are likely to encounter in the field. The Throwbot, for example, is designed to withstand being dropped onto concrete from heights of more than 30 feet, dozens of times. These devices might also encounter dirt, airborne dust particles, moisture, chemicals, and other hazards.
In addition to connectors that are optimized for SWaP, small tactical robots depend on sensors to help navigate rugged territory. Tilt sensors help insectoid robots right themselves and rebalance after disruption. Position sensors help these devices avoid obstacles. Very fine, lightweight cabling is required to unite these sensors and connectors in these ultra-compact packages. Connector suppliers continue to scale down their products to meet the needs of small-scale robotics.
For example, Amphenol Pcd's new Gladiator connector is a small, flat, lightweight component designed for military applications. It facilitates data sharing, battery charging, and peripheral connectivity. The connector's magnetic mating feature orients and aligns connectors for fast mating without user visibility, and a rolling latch prevents inadvertent de-mating. In addition to being suitable for small robotics, this connector is well-suited for soldier wearables, as its plugs and receptacles fit through MOLLE pack straps.
Omnetics' Micro and Nano Strip connectors are also optimized for harsh environment applications where space and weight are a premium, including tactical robotics. Available in COTS, mil-spec, and standard variants with a variety of configurations, including low- and ultra-low-profile, single- and double-row board-to-board and cable-to-board designs with a rugged, mil-spec flex pin and socket system.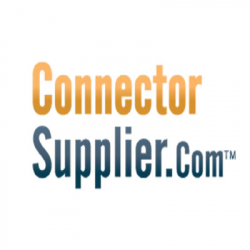 Latest posts by Connector Supplier
(see all)