TE Connectivity Enhanced SFP+ Connectors
TE Connectivity Enhanced SFP+ Connectors are Improved
TE Connectivity announced the availability of an enhanced line of Small Form-Factor Pluggable (SFP+) connectors, the company's portfolio of 16 Gb/s connectors designed for the data communications industry. The new SFP+ connectors feature upgrades that improve thermal performance and increase electromagnetic interference emission (EMI) containment, enabling communication equipment to operate more efficiently and deliver increased bandwidth.
"The new line of enhanced SFP+ connectors demonstrates TE's commitment to address customers' challenges and innovate on their behalf," said Melissa Knox, global product manager for TE. "With energy efficiency and cost savings being a common goal for all of our customers, the SFP+ connector thermal improvements provide an average 3% reduction in temperature, per port, increasing efficiency and reducing system downtime for testing and maintenance — ultimately saving the customer money. The EMI enhancements yield significant improvements in EMI performance, helping to further increase bandwidth and data rates."
TE's portfolio of SFP+ connectors is used for Ethernet, Fiber Channel, and InfiniBand standard applications for up to 16Gb/s. As energy consumption, cooling costs, and overall efficiency remain top priorities for communication and networking customers, TE redesigned the product line to help address these challenges through the following enhancements:
Improved overall energy efficiency:

The side walls, vertical separators, and latch plate areas of the SFP+ connectors have been enhanced to create an airflow channel throughout the cage body. These perforation or vent holes promote cooling of the lower row of ports to further enhance thermal performance. The latest version dissipates more heat, helping to reduce system temperature and improve system performance, while requiring less power to operate the overall system.

Enhanced signal quality:

A second component has been added within the latch plate area of the enhanced SFP+ connectors to reduce EMI by about 10-12 dBm (within the 10-15 GHz range). If EMI is not mitigated properly, these disturbances may degrade the effective performance of the circuit or prevent compliance to standards. The gasket retention plate has been reconfigured into a right-angle design with multiple attachment points, creating a better electrical connection to the cage while ensuring a more secure interface between the conductive elastomeric gasket and front bezel. These updates also improve the strength of the product.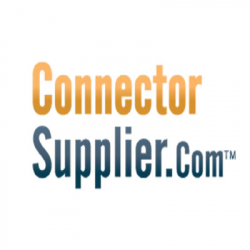 Latest posts by Connector Supplier
(see all)