Rectangular Mil-Spec Connectors Product Roundup
This week's Product Roundup highlights rectangular Mil-Spec connectors, as well as a few connectors based on Mil-Spec designs, from leading suppliers.
Rectangular Mil-Spec Connectors 
ITT Cannon's D*MM Series MIL-DTL-24308 Class-G D-Subminiature connectors provide rugged power, signal, and data solutions designed for mission-critical harsh-environment applications including military and commercial aircraft, aviation equipment, aerospace launch vehicles, and transportation equipment. These connectors have small, lightweight aluminum and zinc alloy shells that can be plated with cadmium, tin, or zinc and are available in five sizes (1–5) and panel-, PCB-, and cable-mount configurations with clinch nut and float-mount options. D*MM Series shells are equipped with UL94 V-0 PCT thermoplastic insulators available in standard and select high-density configurations and can be loaded with 9–50 standard-density or 15–78 high-density removable crimp or fixed, non-removable solder contacts made of gold-over-nickel-plated copper alloy and available with solder-cup, straight, or 90° PCB terminations. D*MM Series Mil-Spec D-Sub connectors are rated for up to 40A and 1,700VAC and engineered to deliver 500 mating cycles in operating temperatures extending from -55°C to +125°C. The series also accept 28–18AWG wire, save for solder-cup variants, which accommodate a maximum wire size of 20AWG. D*MM Series D-Subs are also available with a wide range of tooling, accessories and SAE-AS85049/48/50 qualified backshells. Ideal applications include long-range subsonic cruise missiles, technology-driven UAVs, advanced shipboard communications, and next-generation commercial aircraft systems.
Radiall's MPX Series, also known as DoD-C-83527, is a ruggedized version of ARINC 600 connector solutions that is qualified to both the MIL-DLT-83527B specification and to EN3682 European standards and is used to connect avionics to equipment racks in harsh-environment military and civil aerospace applications. The series exhibits high conductivity, ruggedly withstands shock, vibration, temperatures extending from -65°C to +150°C, salt spray corrosion (500 hours), humidity (10 days), and 500 mating cycles, and is available in a wide range of configurations for broad application suitability. It is also available as complete connector assemblies or as kits for shells or inserts. Features include robust, machined aluminum alloy shells plated with cadmium yellow chromate over nickel and equipped with two, four, or six cavities compatible with various configurations of removable, high-density inserts made of thermosetting resin, high-grade thermoplastic, or aluminum with cadmium yellow chromate over nickel plating. MPX Series connectors also support multiple contact technologies, including gold-over-nickel-plated copper alloy signal, power, coax, twinax, triax, and quadrax contacts, as well as LuxCis ARINC801 physical and expanded-beam optical contacts and Q-MTitan ARINC 846 optical termini. The Mil-Spec series also features enhanced sealing protection via fluorinated silicon rubber O-ring, interfacial, and rear-grommet seals, as well as ruggedized polarization keys and posts, contact retention clips, insert retention plates, screws, washers, and EMI springs.
AirBorn's R-Series high-density rectangular connectors are qualified to MIL-DTL-55302 and available in a competitively extensive array of termination, configuration, mounting, and hardware options all designed to stand the test of time in harsh-environment military and defense applications. The Mil-Spec series has been proven to deliver consistent performance in mission-critical applications — including the Space Shuttle and Mars Rover — for more than 30 years and is available in straight, right-angle, I/O, and space- and cost-saving card-edge configurations with two, three, four, or six rows and 10–604 quad-redundant, four-point contacts on a tight 1.905mm (0.075") pitch that ruggedly and reliably maintain contact with mating pins even when subjected to extreme vibration. The series also offers through-hole, compliant pin, press-fit, surface mount, crimped wire, and solder cup terminations and is made in the USA. Ideal applications for the series include avionics and global positioning systems and space and deep-sea exploration equipment.
Cinch Connectivity Solutions' family of Dura-Con MIL-DTL-83513 Micro-D connectors is designed and regularly tested to the MIL-DTL-83513 specification and actively listed on the United States Defense Logistics Agency's (DLA) Qualified Products Database (QPD). The Dura-Con MIL-DTL-83513 family is comprised of three different series (Metal Shell Connectors, Plastic Shell Connectors, and PCB-Mount Connectors), plus corresponding hardware, and is ideal for use in high-reliability, harsh-environment applications with stringent space and weight requirements, including military navigation and guidance systems, smart munitions and aerospace systems, and downhole oil and gas equipment. The heart of this and every product family the Dura-Con connector range — which is amongst the most widely used range of 1.27mm-pitch (0.05"-pitch) connectors on the market — is the Dura-Con twist-pin contact, which is comprised of seven gold-plated wires wrapped around a three-wire core, compressed to increase the diameter and achieve seven points of socket contact, and built to maintain electrical conduction between pins and machined sockets in even high-shock and -vibration environments. Dura-Con MIL-DTL-83513 Micro-D Metal Shell Connectors have durable aluminum shells with cadmium or RoHS-compliant electroless nickel plating, integrated EMI shielding, and D-shaped polarity for ease of installation and are available in plug and socket configurations with eight pin-counts (9, 15, 21, 25, 31, 37, 51, and 100) and insulated wire, pigtail, or solder-cup terminations. They are rated for 3A, 600VACrms at sea level, 8mΩ contact resistance, and operating temperatures extending from -55°C to +125°C.
Omnetics Connector Corporation's Latching Nano-D Bi-Lobe Connectors offer the same rugged, high-reliability Mil-Spec performance as standard Nano-D connectors but replace the standard threaded jackscrews that require installation tools with a secure, quick-latching system designed for user-friendly, tool-free installation. Latching Bi-Lobe Nano-D connectors are also ruggedized, lightweight, and ultraminiature and are available in surface-mount, flex-mount, straight through-hole, and pre-wired variations well-suited for use in demanding military, aerospace, geophysical, and medical market applications. Like all Bi-Lobe connectors, the straight, through-hole, latching Nano-D Bi-Lobe connectors employ Omnetics' rugged and reliable, gold-plated Flex Pin contact system and robustly withstands up to 100g shock and 20g vibration for more than 10ns with no discontinuities, which exceeds the requirements of MIL-DTL-32139. These dual-row, horizontal SMT connectors have an extremely low-profile package that's well suited to pick-and-place mounting methods and are available electroless-nickel-plated, black anodized, and cadmium-plated aluminum shells, unplated titanium shells, and passivated stainless steel shells featuring stainless steel latch springs and pre-molded PBT backshells. Shells can be equipped with PEEK or LCP insulators per MIL-DTL-32139, 9–65 gold-plated beryllium-copper pin contacts or gold-plated copper alloy socket contacts spaced on 0.64mm centerlines and capable of carrying up to 1A per contact, and standard or high-temperature epoxy (HTE) encapsulant. They are rated for a maximum of 7oz. engagement force per contact, 250VACrms at sea level, and a minimum of 200 mating cycles in operating temperatures extending from -55°C to +125°C, or up to +200°C with HTE. Custom configurations and overmolded cable assemblies are also available.
TE Connectivity's SAE-AS 81714 Common In-Line Terminal Junction System, also known as the DEUTSCH CTJ Series, consists of a system of wires and components — including modules, junctions, connectors, and rail assemblies — that interconnect using standard SAE-AS 39029/22 socket contacts. These Mil-Spec termination junctions have a rugged but lightweight composite housing and are designed to connect two to four wires in an environmentally sealed system that can be made to meet challenging fluid requirements spanning hydraulic fluid to jet fuel using a combination of rubber housing seals, individual wire seals, and fluid-resistant contacts available in sized #22, 20, 16, and 12. They are available as both pass-through junctions and junctions equipped with a variety of discrete passive components, such as diodes, resistors, capacitors, or fuses, to meet a broad range of specific requirements in applications military, commercial, and unmanned aircraft and ground vehicles, combat systems, and weaponry. In addition, the contact sockets crimped on wire are both insertable and removable from housings. These serviceable junction contacts allow, for example, a fuse to be replaced without having to re-crimp contacts. The SAE-AS 81714 Common In-Line Terminal Junction System is also corrosion resistant and is rated for use in operating temperatures extending from -65°C to +200°C. Parts are available through TE Connectivity's online store, as well as through authorized TE distributor Allied Electronics & Automation.
Axon' Cable offers a complete range of Micro-D connectors designed to deliver high mechanical and dielectric strength and durability, low contact resistance, high current handling capabilities, and rugged resistance to shock, vibration, and other hazards in small, lightweight form factors optimized for space- and weight-constrained applications including military and aerospace systems. These 1.27mm-pitch Micro-D connectors are available in standard and Mil-Spec series that are both equipped with high-reliability and -performance twist pins that achieve seven points of contact and withstand up to 200g of vibration and 500g of shock with no discontinuities for more than a microsecond. Both series are also built and tested to perform to MIL-DTL-83513 specifications, but the Mil-Spec range is QPL qualified to MIL-DTL-83513. Axon' also offers board- and cable-mount Micro-D connectors with plastic or metal shells and straight and right-angle configurations and, in order to comply with RoHS, has replaced cadmium with a black nickel zinc surface treatment that delivers the same electrical and physical performance as cadmium.
PEI-Genesis supplies M24308 Series connectors from Positronic, which offer a versatile range of high-reliability, Mil-Spec D-Sub solutions ideal for high-density applications with significant space and weight restrictions, including aircraft, missiles, and ground support systems. The series features solid, machined contacts that are available with non-magnetic properties, offers both standard and high-density layouts, as well as non-outgassing options, and is rated for operating temperatures extending from -55°C to 125°C. PEI-Genesis stocks a wide range of M24308 Series components, including 25 plug and 17 receptacle styles with five pin counts (9, 15, 25, 37, and 50), corresponding insert arrangements, size #20 contacts, yellow chromate over cadmium or yellow zinc plating, and optional RoHS 5/6 compliance on some models.
CDM Electronics supplies Winchester Interconnect's MRAC Series miniature rack and panel connectors with removable contacts. These compact, rectangular I/O connectors are an extension of Winchester's MRA Series, which they're both interchangeable with and nearly identical to, save for slight differences including the MRAC series' body thickness, its use of removable rather than fixed contacts, and its compatibility with crimp, shielded, and wire wrap termination contacts in addition to solder cup and dip solder contacts. Ideal for use in military, aerospace, space, medical, and video applications, MRAC Series rack and panel connectors meet the high electrical performance requirements of the MIL-C-28748 standard, including a 13A current rating and a dielectric withstanding voltage rating of 2,000VAC for one minute at sea level, and are available in Mil-Spec versions approved to the M28748/3 and M28748/4 QPLs. The series features 12 connector inserts that accommodate 9–104 removable, closed-entry pin or socket contacts; three polarized jackscrew options: gold-plated brass, nickel-plated brass, or passivated stainless steel guides with anodized aluminum knobs; and standard or deep-drawn, top- or side-opening, anodized aluminum strain relief hoods compatible with both plugs and receptacles. MRAC Series contacts are all sold separately, which offers substantial circuit flexibility, and are easy to insert by hand or with a standard insertion tool, as well as easy to extract using a simple push-out removal tool. The MRAC rectangular I/O connector series also offers user-friendly monojacks for variants with 34–104 contacts, an optional automatic vibration lock designed to be disengaged with just one hand, and numerical contact identification instead of alphabetical identification upon request.
Allied Electronics & Automation stocks TE Connectivity's AMPLIMITE HD-20 Series D-Sub connectors, which, like all of the other rectangular I/O connector series in the extensive AMPLIMITE product portfolio, are qualified to the MIL-DTL-24308 specification and designed to provide rugged, versatile, lightweight, shielded, and easy-to-use solutions for a wide range of cross-market applications. AMPLIMITE HD-20 Series rectangular I/O connectors are available in five standard shell sizes (1–5), three mounting styles: vertical board-mount, right-angle board-mount, and cable-mount, and various contact layouts compatible with size-20 AS39029, coax, and/or power contacts. Suitable applications include consumer electronics, telecommunications equipment, local area networks, and military, industrial, and medical equipment. 
Mil-Spec Style and Performance, Minus the QPL
Ironwood Electronics offers zero-footprint Grypper test sockets for NAND, Open NAND Flash Interface (ONFi), and new 3D XPoint devices — including PCI, SATA, mSATA, mSATA Mini, M.2, U.2, and half-slim solid-state drives (SSDs), as well as memory cards and CompactFlash cards — and these devices are often employed in harsh-environment, Mil-Spec storage products ruggedized against shock, high humidity, extreme temperatures, and hazardous materials, including solid-state drives and recorders, reconfigurable computing systems, imaging equipment, and communications data buffering applications. Ironwood's Grypper sockets are the same size as the SSD devices they're made to test and are designed to be surface mounted, using standard soldering methods, to the same board location as the tested device, which is how they achieve a zero PCB footprint. Grypper sockets are also designed to support easy, snap-in device installation and, as such, don't require or offer a lid. In addition, since Grypper sockets are only 1.5–2.2mm long, they deliver superior electrical performance, exhibiting typical S21 performance of -1dB at 40GHz, which makes them ideal for high-speed NVMe over PCIe and 3D XPoint applications. Pricing varies depending on the Grypper test socket needed, but a 132 BGA Grypper socket (P/N 104670-0032) is $310 each when ordered in quantities of four.
Smiths Interconnect's robust MIL-DTL-83527 rack-and-panel style connectors meet or exceed the applicable requirements of the MIL-DTL-83527 specification and deliver high-density, high-speed data throughput, and optimal signal integrity in commercial and military aerospace applications subjected to extreme-environment conditions including high shock, vibration, and humidity. The series is available in a wide variety of shell sizes and insert arrangements, with layouts that accommodate mixed signal, power, coax, triax, and ARINC 801 and expanded beam fiber optic twinax and quadrax contacts, and with crimp or solder terminations. It is also available with EMI filtering and transient EMP protection to help maintain signal integrity, with isolated cavities for TEMPEST applications, with anti-rotational keyed insert assemblies for high-speed Fibre Channel or Ethernet applications, and with environmentally sealed backshells that offer accessory threads, optional cable entry locations, and single- or multi-cavity ports. In addition, its twinax and quadrax contacts offer particularly well balanced and matched impedance performance for a wide variety of transmission systems and cable characteristics.
Nicomatic's EMM Micro connectors have a 1.27mm pitch and a rugged, lightweight construction that's 20% smaller than standard Micro-D connectors and 40% smaller than the CMM Micro connectors they're based on. Designed and tested to meet the performance requirements of MIL 83513, these miniature, modular connectors provide both board-to-board and 30–24AWG wire-to-board connections in harsh-environment applications in the civil avionics, defense, security, energy, medical, space, telecom/datacom, and transportation markets. The series offers 4–60 reversed signal contacts for enhanced protection of male pins, integrated 90° back protection, interchangeable hardware for male and female connectors, and locking and guiding mechanisms, and can be supplied as cabled assemblies or crimped onsite. In addition, in January 2020, Nicomatic and Amphenol Socapex signed a dual-sourcing agreement that allows Amphenol Socapex to sell Nicomatic's EMM Micro connector family under the brand MICRO HDAS to provide customers in high-reliability industries with a second source for this innovative connector. Under the global agreement, a selection of Nicomatic's EMM series connectors will be integrated into the Amphenol Socapex portfolio. Both companies will leverage their respective channels, customers, strategies, and networks to address new markets for the high-performance connectors and satisfy customer demands, regardless of the geographic area targeted.
Ex-El Group is an authorized design partner for Amphenol Ltd. and, as such, offers full design and integration support for Amphenol's global range of interconnect products, including Amphenol Military & Aerospace's ARINC 600 and ARINC 404 connectors. These connectors have a highly configurable, blind-mating rack and panel interface especially designed for civil and military aircraft, avionics, and aerospace applications with stringent space and weight constraints and are available in a wide variety of standard and custom configurations with optional EMI/EMP filtering and a variety of power, signal, RF, and fiber optic contacts. The AR Series ARINC 404 rack and panel connectors are designed to meet or exceed the requirements of MIL-C-81659 and ARINC Specification 404. These multi-purpose, push-pull connectors are used in military ground, military aerospace, and computer periphery applications and are available in five different shell styles with up to four insert cavities. Inserts are available with single- or mixed-contact layouts and can accommodate size 12, 16, 20, and 22 signal and power contacts and size 5 or 9 coaxial contacts. The series is also available with optional environmental sealing, which is accomplished with wire sealing grommets and interfacial seals, and application-specific designs, including variants with EMI transient protection.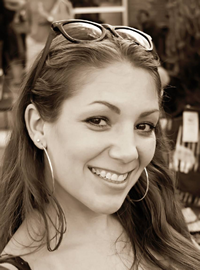 Latest posts by Christine Stieglitz
(see all)