Microminiature MIL-DTL-38999-Style Connectors
This week's Product Roundup highlights space- and weight-saving microminiature MIL-DTL-38999-style connectors from leading suppliers.
Microminiature MIL-DTL-38999-Style Connectors
SV Microwave's high-frequency D38999 RF cable assemblies are available with BMA or SMPM D38999 contacts on one end, male SMA connectors on the other, and 0.085" and 0.141" diameter cable in between. The 50Ω assemblies employ standard interfaces based on MIL-STD-348, can be installed in any MIL-DTL-38999 size 8, 12, or 16 insert, and support frequencies extending from DC to 18GHz with low insertion loss and good VSWR. They also support blind mating, offer a high flex-life to ensure excellent performance after repeated employment, reliably maintain accurate phase length when mated, and leverage unique float-mount technology to provide consistent microwave performance and maintain tight mechanical tolerances. The D38999 RF cable assemblies are available in standard and custom configurations and ideal for use in military, aerospace, and other harsh-environment applications.
Amphenol Pcd's TV μCom (pronounced "Microcom") 10G+ Series connectors are designed to address current military electronics trends, including miniaturization, high-speed performance, and extreme resistance to harsh environment conditions. The series features robust 38999-Series-III-style size 11 shells, provides Cat 6A connections according to TIA568C.2 and ISO/IEC11801 standards, exceeds 10Gb/s Ethernet performance requirements per the IEEE 802.3an standard, and delivers environmental performance based on MIL-DTL-38999 Series III military specifications. The series features four totally insulated pairs with minimum crosstalk, patented interfacial shapes designed for minimal perturbation, a machined brass contact module, and gold-plated, machined solder and crimp contacts based on the design and performance of M39029/77#16 and M39029/76-425#16 38999 coaxial contacts. Material and style options include marine bronze shells or aluminum shells with olive drab cadmium, nickel, black zinc nickel, or custom plating materials in standard, standoff, and reduced flange standoff receptacle, jam nut receptacle, and plug styles. It is rated for 1,500Vrms dielectric withstanding voltage, a maximum wire size of 24AWG for solder contacts and 28–24AWG for crimp contacts, and operating temperatures extending from -55°C to +125°C. The series also provides IP68 protection in both mated and unmated conditions and is RoHS compliant. Ideal applications for the TV μCom 10G+ Series extend across the military, aerospace, naval, and rail industries and include C4ISR systems, battlefield and shipboard communications, ground vehicles, and in-flight entertainment systems. Corresponding tools and accessories include special backshells for heat-shrink sleeves and PC glands, spare contacts, a contact positioner, a contact removal tool, a standard crimping tool, standard and self-closing metallic caps, and silicone caps. 
ITT Cannon's miniature, circular MKJ4 Breakaway Quick-Disconnect Connectors feature a durable canted retention spring disconnect coupling mechanism that enables quick and easy mating and are up to 52% smaller and 71% lighter than traditional 38999 connectors with size 22 contacts. In addition to supporting size and weight reductions, the series also offers enhanced versatility, high performance, and high reliability in critical communication, navigation, and high-speed data transmission applications in the aerospace, defense, industrial, and oil and gas industries. It has four clocking positions to prevent mismating, supports the direct attachment of cable shields or overmolding, and is available in jam-nut, PCB-mount, and wall-mount shells made of aluminum alloy or stainless steel, plated with anodized, electroless nickel, olive drab cadmium, passivated, black zinc nickel, and Teflon nickel coatings, and equipped with one of three types of thermoplastic insulators. It also features four sizes of gold-over-nickel plated copper alloy contacts (size 23, 20, 16, and 12), environmental sealing, and crimp, solder, or PCB terminations and is rated for 5–23A, 500–1,800VAC, and a minimum of 500 mating cycles in operating temperatures extending from -55°C to +150°C. 
Cinch Connectivity Solutions' MD Connectors deliver high-reliability performance equivalent to MIL-DTL-38999 in space- and weight-constrained military, aerospace, medical, and downhole applications exposed to high shock and vibration (300g and 37g, respectively) and temperatures extending from -65°C to +175°C. The circular connectors are available in six shell sizes (6, 7, 8, 9, 10, and 13) and three shell styles (jam-nut receptacle, square-flange receptacle, and in-line plug) equipped with dual-start ACME threads for protection against both cross-mating and vibration and can be made of either aluminum or stainless steel and plated with electroless nickel, nickel PTFE, black zinc nickel over electroless nickel, black hard anodize, a passivated coating, or cadmium with olive drab chromate. They are also available with up to 130 contacts and with crimp, solder, or PC-tail terminations and are intermateable with Amphenol's 2M Series and Glenair's 801 Series. The series is rated for 5A and 750VAC, provides IP67 protection when mated, and exhibits a minimum of 5,000MΩ insulation resistance and a minimum of 55dB shielding effectiveness from 100–1,000MHz. 
PEI-Genesis stocks Amphenol's 2M Series microminiature connectors, which are lightweight, quick-mating microminiature connectors designed to deliver mil-spec performance in harsh environments and guaranteed to be fully intermateable with Glenair's popular Mighty Mouse connectors. The series meets D38999 specifications for vibration and shielding, outperforming even the Mighty Mouse, and is ideal for use in aviation, military communications, and UAV applications. It is available in dual- and tri-start ACME threaded, bayonet, and push-pull configurations with aluminum alloy or passivated stainless steel shells, PPS inserts, up to 130 copper alloy contacts plated with 50μin of gold, unplated, heat-treated beryllium copper contact retention clips, passivated stainless steel contact hoods, and fluorosilicone rubber grommets and seals. The series offers crimp, solder, and printed circuit style contacts in sizes 23, 20, 20HD, 16, and 12, accepts 28–12AWG wire, and exhibits a minimum of 55dB shielding effectiveness from 100–1,000MHz and a minimum of 5,000MΩ insulation resistance. It is rated for 500–1,800VAC at sea level, 100–1,000VAC at 40,000 feet, and 5–23A depending on contact size and for up to 2,000 mating cycles at operating temperatures extending from -65°C to +150°C for aluminum shells and +200°C for stainless steel.
TE Connectivity's DEUTSCH Wildcat Series connectors offer rugged performance and critical space and weight savings in aerospace applications. Based on MIL-DTL-38999 Series III technology, they are available in four housing sizes with 11–64 rear-removable crimp or PCB contacts that provide nearly double the contact density for a given 38999 connector size, as well as in various plating and material finishes, backshell or cable braid and boot terminations, and seven keying options, including universal. The series also features a triple-start, threaded, scoop-proof interface that provides a robust, high-reliability coupling mechanism with outstanding resistance to shock and vibration, and is fully sealed for aggressive fluid resistance and dust ingress protection. A micro version, the Wildcat Micro Series, is available as well.
Interstate Connecting Components (ICC), a division of Heilind Mil-Aero, stocks LC Field physical contact circular connectors from Amphenol Fiber Systems International, which employ its patented RJStop system to protect railway, base station, military communications, and marine connections from shock, vibration, dust, and fluid and eliminate the need for in-field cabling and installation tools. The two-channel fiber optic connectivity solutions allow installers to use standard LC or LX5 patch cords in a protective — IP68, shock- and vibration-proof — metallic plug that mates with a MIL-DTL-38999-Series-III-type, tri-start-threaded receptacle with an anti-decoupling device. Shell options include plugs with metal backshells and metal PG clamps, square flange receptacles without backshells, and jam nut receptacles without backshells, each of which is available with one of five plating materials: nickel, olive drab cadmium, bronze, black zinc cobalt, and olive drab zinc cobalt, and corresponding protective caps with nylon cord or metallic chain. The series also features five-keyway polarization (A, B, C, D, and E) and accepts 1.6mm, 2mm, and 2.8mm flat duplex cable or duplex zipcord, as well as a flat duplex cable and duplex zipcord blend. It exhibits typical insertion loss of 0.5db in both multimode and single-mode and is rated for 500-cycle durability.
Samtec's ETUO FireFly Extended-Temperature Active Optical Micro Flyover Cable Assembly is comprised of ETUO Series embedded optical modules coupled with the FireFly Micro Flyover System, which enables industry-leading density and is the first interconnect system to enable the interchangeable use of high-performance, micro-footprint optical interconnects and low-cost copper interconnects within the same PCB connector system. The ETUO assemblies support extended temperatures spanning -40°C to +85°C for broad suitability in military, aerospace, and industrial applications and can support four or 12 channels and 10Gb/s data rates per channel. They have also been proven to demonstrate error-free transmission during applied external vibrations and shock test to methods specified in MIL-STD-810 and are available in multiple end options, including Amphenol Aerospace's D38999 with embedded 12, 24, and 48 channel MT components. Other end options include MTP, MXC, ARINC 801, VITA 66.X, and other common rugged interfaces.
Allied Electronics & Automation stocks SOURIAU's micro38999 Series micro circular connectors, which are derived from the MIL-DTL-38999 design but are 50% shorter, 33% smaller, and three times lighter and are ideal for space- and weight-constrained defense and industrial applications including displays, UAVs, helmets, tactical radios, remote controls, and drilling and instrumentation equipment. The series offers the market's first complete platform of integrated backshell products available with a 38999 design and capable of withstanding harsh-environment conditions including vibration, temperature, durability, corrosion resistance, and EMI shielding. It's available with threaded, breakaway, and bayonet coupling systems for broad application suitability and features contact protection, visual mating indication, EMI shielding, six D38999 keyings, and RoHS-compliant black zinc nickel plating qualified by the U.S. Department of Defense DLA Land and Maritime standards organization.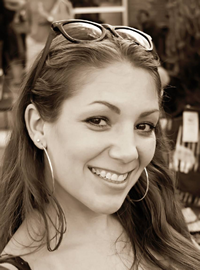 Latest posts by Christine Stieglitz
(see all)