DIN Rail Terminal Blocks Product Roundup
This week's Product Roundup highlights DIN rail mounted terminal blocks from leading suppliers.
DIN Rail Terminal Blocks 
Phoenix Contact's DIN rail mount PTV terminal block range combines the timesaving advantages of tool-free, push-in direct connection technology for rigid and ferruled conductors with lateral screw terminal block conductor routing, which offers enhanced security and more easily identifiable connection and conductor markings, and clearly arranged wiring without bending radii. Its connection and conductor routing principles are self-explanatory, enabling quick, tool-free connections by all manner of installers, as well as quick disconnections using standard screwdrivers, and it accepts both rigid conductors with 0.5mm² and greater cross-sections and, with the help of a pushbutton, flexible conductors with cross-sections of 0.14mm² and above. Once mated, the series' high-quality, hard-faced copper alloy contact springs achieve vibration-resistant, gas-tight connections with maximum contact and conductor pull-out forces, the lowest contact resistances, and maximum current transfer. The PTV range offers compact feed-through, multi-conductor, and double-level terminal blocks that support flexible bridging and identification marking, as well as space-saving fuse terminal blocks with pivoting levers and optical indicators that allow users to integrate G 5 x 20 fuses into systems, quickly and easily identify and replace faulty fuses, and, thanks to the lateral conductor connection configuration, fully open the levers of the fuse terminal blocks even when the conductors are connected. It also offers disconnect and knife disconnect terminal blocks with and without function shafts to enable the clear separation of signal currents in space-constrained applications. The circuits of PTV knife disconnect terminal blocks can be opened easily with a standard screwdriver; the disconnect lever latches into the end position, ensuring that the switching states of the knife disconnect terminal blocks are permanently secured and always clearly detected. PTV disconnect terminal blocks, on the other hand, have a standardized disconnect zone in which various function plugs (e.g., fuse plugs, component connectors, feedthrough connectors, and isolating plugs) can be installed without tools, as well as double-sided test points and flat contacts on the current bar to ensure easy, safe, and reliable test results, even in models with an assembled function shaft. PTV terminal blocks are also compatible with the company's complete range of CLIPLINE accessories.
Weidmuller's comprehensive range of DIN rail mounted terminal blocks for power distribution applications offers a range of flexible, space-saving solutions optimized for simple handling and fast installation, even in restricted spaces and challenging conditions, and is available with screw-, PUSH-IN, and tension clamp technology. WPD screw-connection terminal blocks (pictured top right) have a unique form factor with offset screw heads and patented clamping yoke technology to ensure safe and comfortable connections at every echelon level in even confined systems and housings. They also have IECEx-approved self-extinguishing, halogen-free plastic housings with high finger protection per EN 50274, short circuit resistance per the SCCR standard, and four color choices: grey, blue, red, and black, and are ideal for distributing the energy and zero potentials fed into machines and plants one step further to supply applications including industrial motors. WPDB – North America DIN rail, screw-connection terminal blocks safely, flexibly, and economically distribute mains-born power sources (50–1,000VAC and 75–1,000VDC), accommodate large wire sizes and multipole assemblies — including single-, two-, and three-phase groupings — in a compact footprint, and ensure finger-safe connections in industrial applications including material handling, building automation, and power conditioning systems. PUSH-IN WPD terminal blocks for AMC motor connections (pictured bottom) have a unique, three-level design that enables quick and easy installation, safe, pluggable connections, and cross-level wiring in the smallest possible footprint and can even be used as an alternative to potential distribution. WPD terminal blocks with tension clamp connection technology, a universal contact system for all common conductor connection types (pictured top left), support compact power feed-in and distribution via large-cross-section wires and allow users to further distribute power within panels via standard cross-connections. The uniform position of the cross-connection channels allows for convenient potential distribution for wires with cross-section spanning 1.5–16mm2 for both broad application suitability and subsequent system extensions.
TE Connectivity's line of ENTRELEC Terminal Blocks offers one of the largest selections of DIN rail terminal blocks on the market and can be found in more than 8,000 existing electronic products and systems. Options include Screw Clamp Terminal Blocks with rationalized functions and accessories ideal for a broad range of applications; Push-In and Spring Terminal Blocks with ENTRELEC PI-Spring technology, which combines the benefits of push-in and spring technologies to deliver time savings, stock reductions, and secure installations; Pluggable Terminal Blocks that combine the benefits of TE's smart connection technologies with the flexibility of pluggable functionality; and Power Distribution Blocks with an exclusive, compact, and modular design that supports easy installation and extreme application flexibility. The line also features ESSAILEC test blocks that safely and easily perform test operations including current and voltage measurement; Stud Terminal Blocks for connection and distribution of power into installations; dedicated lines of application- and market-specific DIN rail terminal block solutions, including IDC, push-in, spring-loaded, quick-connect, and stud terminal blocks for railway applications and railroad infrastructure and DBL and SNK terminal blocks for AC/DC photovoltaic installations; as well as related solutions such as markers and marking systems, custom terminal block assemblies, and software solutions including Easy Rail Designer 3D. Its SNK Series ENTRELEC Pluggable Terminal Blocks, for instance, bring modularity to electrical installations by enabling the combination of subassemblies and prewired harnesses that facilitate and considerably accelerate assembly test and factory commissioning. Qualified for use in worldwide markets and in hazardous, high-shock and -vibration environments including railway, marine, and solar energy applications, the highly reliable SNK Series terminal blocks are available with PI-spring and screw connection technology, require only two plug variants to compose subsets of plugs without tooling, which enables greater cost savings, accept 26–10 AWG wire, and protect against connection errors with coding pegs and accidental tearing with locking devices.
Allied Electronics stocks an extensive selection of DIN rail terminal blocks from Phoenix Contact, including a broad range of products from its COMBICON control series for industrial and process automation; PT range of push-in terminal blocks for use in standard to high-shock, -vibration, -corrosion, and even explosive (Ex e) applications; ST series space-saving feedthrough and ground terminal blocks with snap-on DIN rail mounting mechanisms; UK series compact, ultra-flexible, screw-connection feedthrough terminal blocks for small to very large conductors; and its UT series universal screw-connection terminal blocks for virtually any application. The UT series is part of the CLIPLINE complete system and is the only terminal block series on the market that combines the advantages of screw connection technology with the benefits of spring-loaded contacts. Designed to meet the highest application requirements, establish long-lifetime, maintenance-free, gas-tight conductor connections, and provide maximum flexibility for multi-conductor connections, the UT series also accepts ferruled and unferruled conductors with cross sections up to 240mm2, has a snap-on foot and standardized bridges that save a considerable amount of time when creating terminal strips, and doesn't require any screw tightening since they're prevented from loosening by Phoenix Contact's proprietary Reakdyn principle screw locking technique.
Hirose's Zero Screw EF2 Series screwless, DIN rail mount terminal blocks reduce electrical wiring and maintenance time by up to 40% compared to conventional terminal blocks and have a unique, single-action connection design that allows users to simply push a ring terminal into the connector, which eliminates the need for screws as well as the subsequent inspections and retightening required to ensure stable and consistent connections for traditional terminal blocks. The series is available in five sizes, five current ratings (30A, 60A, 150A, 250A, and 400A), and four voltage ratings (600VAC, 1,000VAC, 600 VDC, and 1,500VDC); rated for 50-cycle durability in operating temperatures extending from -25°C to 105°C; and especially well suited for hard-to-reach rail, power distribution, machine tool, semiconductor manufacturing, and energy storage applications.
TTI, Inc. offers High-Current Universal-Clamp Terminal Blocks from Molex. Designed to provide versatile solutions for high-current and high-voltage applications that require aluminum-to-aluminum, copper-to-copper, or aluminum-to-copper terminations, these DIN rail and panel mount terminal blocks have a partition wall on the polyamide cover that acts as a barrier between the conductors and prevents oxidation, hex screws that secure stranded wire, and tin-coated aluminum contacts that terminate to aluminum or copper wire. The series also has a polyamide housing, is available in single- and three-pole versions rated for a maximum or 600V or 1kV and operating temperatures extending from -40°C to +125°C, and is short-circuit tested to the stringent requirements of IEC standard EN 61238-1:2003. Ideal applications for the series include commercial vehicles, maritime vessels, industrial equipment, mass transportation, renewable energy infrastructure, metering and control equipment, electric trains, vehicle charging stations, switchgears, power distribution panels and cabinets, and motor drives, inverters, and control systems.
WAGO's extensive range of DIN rail and chassis mount terminal blocks are rigorously tested to the highest levels of safety, above and beyond the scope of industrial standards, support quick and easy installation with no ferrules or crimping required, and employ industry-proven spring connection technology to achieve maintenance-free, vibration-proof connections. Its TOPJOB S Rail Mount Terminal Blocks offer three different actuation styles (lever, push-button, and open-tool slot) for broad application suitability, as well as continuous marking possibilities, an existing range of corresponding jumpers for all three models, push-in termination for solid, stranded, and ferruled wires, and test options for all variants, which include Through Terminal Blocks, Double-Deck Push-Button Terminal Blocks, Disconnect/Test Terminal Blocks, Fuse Terminal Blocks, Sensor and Actuator Terminal Blocks, and Current and Voltage Transformer Terminal Blocks. TOPJOB S Through Terminal Blocks (top left) are available in single-, double-, triple-, and quadruple-deck versions and offer clear identification via center marker slots for continuous multi-line marking strips and WMB markers, EX I and Ex e variants for especially hazardous locations, and terminal blocks approved for both 800V IEC and 600V UL ratings. TOPJOB S Double-Deck Push-Button Terminal Blocks (top right) are ideal for space-constrained wiring applications and have intuitive, orange pushbuttons that provide a clear indication of where the operating tool must be places, as well as positive feedback during actuation, and will never stick in the open position. They also employ Push-In CAGE CLAMP technology, support dual-row jumpering with an exlusive retention spring, and are designed so that all conductor insertion and jumper slots are clearly visible from the top. TOPJOB S Disconnect/Test Terminal Blocks (middle left) have a space-saving design with always-visible orange knife disconnects between the conductors to support quick and safe disconnections, service-friendly testing for potential ground faults, the same shape as corresponding through terminal blocks to ensure clear sightlines, and a wide variety of jumpers. TOPJOB S Fuse Terminal Blocks (middle right) protect against short circuits using miniature metric fuses and blade-style fuses, can be assembled into strips, enable simple, safe fuse replacement, and offer optional LED indictors to identify blown fuses. TOPJOB S Sensor and Actuator Terminal Blocks (bottom left) are designed for wiring modern machine control systems. They pack several sensors into the smallest possible space using only 3.5mm per sensor on DIN rails and support clear identification with multi-link marking strips, commoning with standard color-coded jumpers, and easy assignment with always-visible LEDs, jumpers, and markers. TOPJOB S Current and Voltage Transformer Terminal Blocks (bottom right) are ideal for safe and automatic short-circuiting, as well as easy measurement applications, and have an intuitive, easy-to-use, and compact design with top-of-unit circuit jumper slots for shorting path activation, switching status indication, and 30A/500V IEC or 300V UL ratings. The line also offers Diode and LED Terminal Blocks and Pluggable Diode and LED Modules.
BlockMaster Electronics' HP-ATB-175B Series modular panel distribution terminal blocks are part of its High Output Power product family and provide a convenient means of transitioning larger gauge, high-power mains (e.g., #2/0~6AWG wire carrying 175A) to same-size or lower-power branch circuits (e.g., four or six #10~14AWG wires carrying 15–30A) with bare wire, ring, or spade terminals in applications including HVAC equipment, pump control panels, switch gear, and emergency power generation systems. The series supports both DIN rail and panel mounting and is available in six different module configurations — hex/stud, hex/four-screw, hex/hex, stud/stud, stud/four-screw, and hex/six-screw — that can be ganged together in any configuration or used individually to meet a broad range of individual application requirements. It features housings made of UL94 V-0 PBT, clear UL94 V-0 polycarbonate safety covers, aluminum terminals, and aluminum and stainless steel screws and is rated for 600V operation, 175A, 2,500VAC withstanding voltage, and operating temperatures extending from -25°C to +125°C.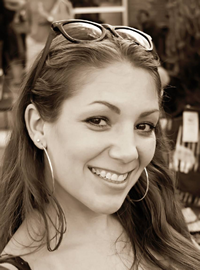 Latest posts by Christine Stieglitz
(see all)