D-Subminiature Connector Products
This week's product roundup highlights some of the most rugged, reliable, and versatile D-Subminiature connectors currently available on the market.
D-Subminiature Connector Products
Amphenol ICC
's ruggedized MDBR Series D-Sub connectors mate with standard connectors and come with die-cast metal housings that provide robust resistance against mechanical damage resulting from shock, vibration, and impacts, as well as with both internal and external IP67 silicone rubber seals that effectively protect against the ingress of water and dust over a wide temperature range. Designed to deliver reliable performance in harsh-environment medical, military, transportation, datacom, telecom, energy, industrial, and rail applications, the series features machined contacts plated with 30μ" gold for extreme durability and is rated for operating temperatures spanning -44°C to +105°C. The RoHS compliant series is currently available in standard-density nine-pin configurations and high-density 15- and 26-pin configurations with a wide variety of mounting and termination options, enabling the drop-in replacement of standard equivalents with little to no changes to standard footprints and mounting hardware or additional space required.
TE Connectivity'
s IP67 AMPLIMITE D-Subminiature pin-and-socket connectors are compact, economical, especially designed for high-density packages, and ideal for use in harsh environment applications including military, aerospace, and marine equipment. Designed to meet MIL-DTL-24308 specifications, the IP67-rated connectors are available in two series: Series 109 standard-density connectors with size 20 contacts and Series 90 high-density connectors with size 22 contacts. Both series are intermateable with standard D-Sub connectors and feature grommet sealing on the wire-entry end, a single-piece interfacial seal on the mating face, and rear-release AS39029 QPL crimp contacts. Operating temperatures for both series span -55°C to +125°C.
Mouser Electronics
offers Combo D® combination D-Subminiature connectors from ITT Cannon. Ideal for aerospace, defense, industrial, and transportation applications that require both space optimization and effective overall shielding, Combo D connectors feature a combination of 75Ω video coaxial, 50Ω RF/telecom coaxial, and 5–40A power contacts in standard or European footprints within fully-shielded panel-, PCB-, or cable-mounted steel or brass shells with tin-over-nickel, chromate-over-zinc, chromate-over-cadmium, or gold plating. Delivering all of the advantages of industry-standard shielded I/O connectors with fewer I/O interfaces, reduced EMI/RFI leakage, and the flexibility of customized, application-specific designs, the series is rated for 780–2,800VAC, 201–500 mating cycles, 8–28 AWG, and operating temperatures spanning -55°C to +125°C. PCB-mount options can accommodate boards up to 3.2mm thick and are available with board locks and/or screw locks.
BTC Electronics offers Glenair MWDM Series MIL-DTL-83513 Micro-D connectors, which exhibit outstanding mating performance and durability, high current handling capabilities, minimal contact resistance, strong contact retention force, and robust resistance to shock, vibration, and corrosion. Featuring optimized EMI/RFI shielding, environmental sealing, and 9–130 high-density micro TwistPin contacts on .050" centers, the extremely customizable series is suitable for a broad range of operating temperatures and is available in QPL and commercial versions with single-row, multi-row, low-profile, and high-density insert arrangements and pigtail, PCB, solder cup, and flex terminations. Hermetic versions are also available.
Amphenol Pcd
's M2000 Series MIL-DTL-24308 D-Subminiature rack-and-panel connectors feature versatile designs with polarized shells and high-density, high-reliability, machined pin-and-socket contacts ideal for applications in which weight and physical dimensions are critical factors, including: military, aerospace, industrial, and communications applications. The series is available in both standard (nine- to 50-pin) and high-density (15- to 104-pin) configurations with gold-over-nickel-plated copper alloy contacts in cadmium-, nickel-, or gold-plated steel or brass shells, and is rated for a maximum of 7.5A, 5N maximum insertion and removal force, 20–28AWG, 500 cycles, and operating temperatures spanning -55°C to +125°C. Non-magnetic versions are also available.
Positronic
's XAVAC, SAVAC, and HIVAC Series hermetic feedthroughs for vacuum applications offer D-subminiature connectivity in demanding spaceflight and industrial applications. These series feature standard connection systems, rugged shock and vibration resistance, and helium leak rates of <5×10-9mbar l/s at vacuums of <1.5×10-2mbar, and are available in a wide range of configurations capable of accommodating standard, high, and mixed density contact layouts with options for thermocouple, power, and coaxial contacts. Positronic also offers custom-built hermetic flanges with an array of discrete hermetic connectors on a single plate.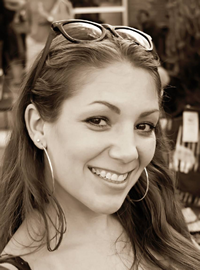 Latest posts by Christine Stieglitz
(see all)