Composite Shell Connectors Product Roundup
This week's Product Roundup highlights lightweight composite shell connectors from leading suppliers.
Composite Shell Connectors
Nicomatic's DLMM Metallized Composite Connectors deliver compact, lightweight, cost-effective, and fully shielded power and signal solutions ideal for use in weight- and space-constrained applications including UAVs, robotics, satellites, and radar systems. Based on its popular DMM Micro-D Mix connectors — but with a metallized composite shell that reduces connector weight by 50% compared to metal-shell Micro-D connectors, adds a flange for enhanced mounting security, and reliably protects against corrosion from oxidation and salt spray — the series provides superior EMI protection performance equivalent to MIL-DTL-83513 metal connectors and features an integrated backshell with a central quick lock for secure connections. It can also incorporate adapted mono-block backshells to shield cable connections and further enhance resistance to harsh environment conditions. DLMM Series connectors are available in five standard shell sizes (10, 16, 22, 26, and 32) with dual-row configurations featuring 4–32 contacts on a 2mm pitch and surface-mount, through-hole, or cable terminations. Standard contact options include high-power contacts rated for up to 20A, low-power contacts rated for up to 5A, coaxial contacts capable of up to 20GHz in any layout, and mixed power, signal, and coax contacts. All standard solutions are available from stock with lead times of just three weeks. Solutions with custom shell sizes, configurations, contact layouts, terminations, and fixing hardware are also available and can typically be delivered within six-week lead-times.
TE Connectivity's DEUTSCH ACT Series MIL-DTL-38999 Series III composite shell connectors are lightweight, corrosion-resistant, and qualified to both MIL-DTL-38999 Series III and EN3645 specifications. The series features a triple-start coupling mechanism with anti-decoupling ratchet for rugged resistance against high vibration, a grounded plug for superior EMI shielding, and 100% scoop-proof contacts for blind-mate coupling capabilities. Designed to provide extreme reliability and versatility in a broad range of harsh-environment military and aerospace applications, the DEUTSCH ACT Series offers a variety of options including straight plug, square flange, and jam-nut receptacle configurations in nine shell sizes spanning 9–25; electroless nickel and olive drab cadmium plating materials rated to withstand up to 2,000 hours of salt spray; and more than 50 insert arrangements made of thermoplastic and fluorinated silicone elastomer and designed to accommodate 2–128 size #22, 20, 16, or 12 power, signal, coax, and/or twinax contacts. The composite shell series also offers six keying options and fluorinated silicone elastomer O-rings and accepts 0–37 power pins rated for 5–43A, 0–128 signal pins, and several wire gauge ranges extending from 10–8AWG to 28–22AWG. It is rated for 1,500 mating cycles in operating temperatures extending from -65°C to +200°C and available in variants designed for compliance, partial compliance, or non-compliance with RoHS and EU ELV directives.
Allied Electronics & Automation stocks Amphenol Aerospace Tri-Start MIL-DTL-38999 Series III connectors, which are ideal for use in high-reliability, harsh-environment applications including missile and ordnance systems, command, control, communications, computer, intelligence, surveillance, and reconnaissance (C4ISR) systems, and military and commercial aviation and aerospace equipment and vehicles. Designed for extreme versatility, the series is available in an extensive and ever-expanding range of configurations designed to meet various applications, including variants with aluminum, stainless steel, and composite shells. Tri-Start MIL-DTL-38999 Series III connectors with aluminum or stainless steel shells employ several different design features and plating options for increased protection against EMI, corrosion, extreme vibration, ingress, leakage, and high temperatures up to 200°C. They have quick-coupling nuts that mate and self-lock with a simple 360° turn; solid metal-to-metal couplings, grounding fingers, and thicker wall sections for superior EMI shielding (≥65dB at 10GHz); scoop-proof shells with recessed pins to prevent contact damage; interfacial seals to prevent electrolytic erosion; and Faraday Cages for ESD protection. They are also available with hermetic sealing, integral strain relief, deep-reach shells for thick panels, and stand-off flange shells for PCB attachments. Tri-Start MIL-DTL-38999 Series III connectors with lightweight, corrosion-resistant composite shells deliver the same high performance as the series' metal-shell options, but with 17–40% weight savings compared to aluminum shell solutions and 60–70% weight savings compared to stainless steel solutions and extended-life contacts rated for a minimum of 1,500 couplings. In addition, stainless steel variants are also qualified to BACC63DB and BACC63DC specifications and composite variants are also qualified to BACC63CT and BACC63CU specifications.
PEI-Genesis stocks SOURIAU's 8D Series MIL-DTL-38999 Series III connectors, which are available in an extensive variety of configurations for broad application suitability. Designed for harsh-environment military and commercial aerospace, defense, industrial, and transportation, applications, the series features 360° EMI shielding, IP67 sealing on each contact cavity, scoop-proof contacts, a metallic contact retention clip, a self-locking quick-coupling mechanism for easy installation, visual mating confirmation, and rugged resistance to high vibration (44g) and operating temperatures up to 200°C. The versatile series is available in nine shell sizes spanning 9–25, seven contact sizes spanning #4–26, and 54 MIL-DTL-38999-qualified layouts with 1–128 gold-over-nickel-plated copper alloy contacts and PC tail, crimp, solder cup, and wire wrap terminations. SOURIAU's 8D Series also offers aluminum, stainless steel, titanium, bronze, and lightweight composite shells; five plating materials: nickel, black zinc nickel, green zinc cobalt, cadmium olive drab, and passivated stainless steel; inserts equipped with multiple signal, high-power, and high-speed contact technologies, including coax, quadrax, twinax, triax, ELIO fiber optic, and expanded beam; and accessories including protective caps, backshells, and tooling. Additional options include hermetic versions, current ratings up to 850A, voltage ratings up to 230V, and endurance up to 1,500 cycles. The series is qualified to MIL-DTL-38999, EN3645, and BACC63 specifications.
Cinch Connectivity Solutions' C-ENX Series EN 4644 modular rectangular connectors for next-generation aerospace applications are slim, modular, and expandable and comprised of an outer protective shell, sealed inserts, machined contacts, and optional backshells, accessories, and assemblies all standardized to EN 4644. The series offers aluminum, stainless steel, and composite shells optimized for galley, disconnect, and rack and panel applications, as well as both small and large inserts that position the contacts, prevent electrical shortages, and provide an environmental seal against corrosive fluids. C-ENX pin and socket inserts are easy to install and remove, can be installed in both plug and receptacle shells, are available in high-density layouts, and accept signal, power, data, RF, and fiber contacts. The series is also available with optional ground blocks to meet FAA HIRF requirements, backshells for strain relief or EMI protection, and accessories ranging from tools to spare parts and dust caps. In addition to providing extensive customization and versatility, C-ENX Series connectors support space-saving stacking configurations that don't require any additional space to engage locking mechanisms and reduce rework and complexity by using the same panel cutout for all variations and the same shell cavities for all inserts.
Mouser Electronics stocks TE Connectivity's 369 Shielded Rectangular Connectors, which provide all of the benefits of its DEUTSCH 369 Series in addition to robust new shielding mechanisms for grounding and EMI protection, which enables their use in commercial aerospace, military ground vehicle, mass transit, and mobile equipment applications including helicopters, drones, lighting and infotainment systems, galley equipment, and seat wiring and actuation circuits. The 369 Shielded connectors have lightweight, non-toxic, and RoHS-compliant nickel-plated composite shells that can achieve up to 75% weight savings compared to competing solutions and employ push-pull mating for quick and easy installation and removal. They support data transfer rates up to 100Mb/s per the ARINC 854 Ethernet over single twisted pair (100BASE-T1) specification, reliably withstand indirect lighting strikes of 3.6kA, provide effective EMI shielding of at least 60dB at low frequencies (150–200MHz) and at least 40dB at high frequencies (800MHz – 1GHz), and are backward compatible and intermateable with existing 369 Series solutions. They also employ rugged, scoop-proof, size 22 AS39029 gold-plated copper alloy contacts, support blind mating and tight mounting pitches for multiple connectors, provide audible confirmation of proper mating, employ triple-barrier wire seals and cork-in-bottle interfacial seals for IP67 protection and performance up to 60,000', and exhibit robust resistance to shock and vibration, in addition to low-smoke, -toxicity, and -flammability properties. The shielded connectors are currently available in three shell sizes (3, 6, and 9) rated for 5A, 1,500Vrms dielectric withstanding voltage with <2mA leakage, a minimum of 5,000MΩ insulation resistance, and operating temperatures extending from -55°C to +175°C.
ITT Cannon's RPR EN4165-style connector with PCB contacts is compatible with ARINC 809 and intermateable with other EN4165 plugs from current suppliers and securely transmits power, signal, and high-speed, high-signal-integrity data in commercial avionics and in-flight entertainment and connectivity applications. The RPR EN4165-style connector has a lightweight, space-saving design comprised of a composite shell with electroless nickel plating, front-release/rear-removable inserts equipped with up to 30 gold-over-nickel-plated copper alloy press-fit PCB contacts, a monoblock thermoplastic insulator, and a proprietary latching mechanism that makes service, repair, and maintenance easier. It is rated for up to 40A, 500V, and 500 mating cycles in operating temperatures extending from -55°C to +175°C and is available with straight and right-angle PCB contacts in various sizes (#12, 16, 20, 22, 23, 24), as well as optional sealing protection and additional accessories for line replaceable unit (LRU) applications.
Amphenol Aerospace collaborated with Samtec to develop its Centaur High-Speed Cable Assembly, which leverages the advantages of Amphenol's extensive portfolio of mil-spec connectors, as well as the latest in high-speed contact and connector technology — Samtec's ExaMAX high-speed backplane system — to provide durable, fully-tested high-bandwidth connections ideal for use in military, aerospace, and other ruggedized applications. The Centaur has a ruggedized, lightweight MIL-DTL-38999 shell equipped with high-performance copper alloy contacts plated with 30μin of gold, supports data transmission speeds up to 56Gb/s, complies with VITA 47 shock and vibration requirements, and is rated for 100 mating cycles in operating temperatures extending from -55°C to +85°C. Options include size 23 and size 25 aluminum, stainless steel, and composite shells with seven standard plating options (OD cadmium, electroless nickel, durmalon, black zinc, nickel, passivate, and none), six keying options (N, A, B, C, D, and E), and 32 or 40 100Ω differential pairs. The Centaur is also available with 34 and 30AWG high-bandwidth cable, THV and PVC cable jackets, and straight, 45°, and 90° backshells.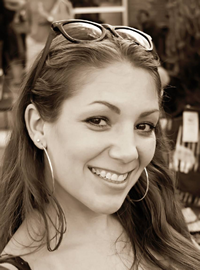 Latest posts by Christine Stieglitz
(see all)