Cables and Cable Assemblies for Transportation Applications
This week's Product Roundup highlights cables and cable assemblies for transportation applications from leading suppliers.
Cables and Cable Assemblies for Transportation Applications
Power & Signal Group supplies COFICAB cables for automotive and transportation applications including personal vehicles, light-duty and heavy-duty commercial vehicles, and agricultural and construction equipment. The range includes lightweight, small-diameter cables like the COFSkinny, as well as high-voltage and sensor-cable solutions, and is made using an "e-beam" crosslinking process, rather than the industry-standard chemical crosslinking process, to provide better resistance to hazards including high temperatures, abrasion, and fluids. COFICAB General Purpose Cables are available with diameters spanning 0.35–120mm2 and temperature classes extending from T2 (100°C) to T6 (200°C). COFSensor cables are available for automatic braking, electronic stability control, and electric parking brake (ABS, ESC, EPB) systems and gear box, inductive, and active sensor applications. COFHeat cables ruggedly resist high temperatures spanning 125°C to 260°C per ISO 6722 and 19642 and are also available with diameters spanning 0.13–120mm2. COFFlex cables are made with an extra flexible polyolefin-based insulation for ease of assembly, are rated for operating temperatures up to 150°C, and are available in low- and high-voltage, shielded and unshielded variations. E-COF cables are high-voltage cables that conform to ISO 6722 and 19642, are rated for 600V, 900V, or 1,500V operation in temperatures up to 200°C, and are available in both shielded and unshielded versions. COFAlu cables offer aluminum cable solutions according to ISO 6722-2 and 19642, withstand maximum operating temperatures as high as 100°C or 200°C, and are available in low- and high-voltage, shielded and unshielded variations. The range also includes bare and tinned copper UL758 cable, flexible UL62 cable for power charging and parallel cord applications, and a variety of cables qualified to SAE standards including SAE J1127 and J1128 and UL standards.
JOIN TEK INC. offers a range of IP67 waterproof cable assemblies for e-bike applications. The range includes the JTWP-08 Series, which features M8 connectors with 2–6 pins, IP66 protection, and plug and screw coupling mechanisms; is rated for 3A, 250V, ≥20MΩ insulation resistance, ≤10mΩ contact resistance, and up to 200 mating cycles in operating temperatures extending from -40°C to +85°C; and is featured in e-bikes manufactured by Giant Bicycles, the world's largest bicycle manufacturer. The range also includes the JTWP-05 Series, which not only have the smallest diameter of any assembly in the range but are also smaller than most competitors' smallest offering. JTWP-05 Series assemblies feature M5 connectors with the same standard specifications as the JTWP-08 Series. Another highlight of the JOIN-TEK e-bike cable assembly product line is the JTWPA Series splitter, which are used to connect the controller with other devices, like displays, lights, and pedal sensors, and also exhibit the same performance specs. All assemblies are manufactured in a facility certified to the ISO 9001:2015, ISO 14001:2015, and IATF 16949 standards.
Binder's M12-DT Cable Assemblies for data transmission and power supply applications in industrial automation and transportation equipment are available in A-coded male to DEUTSCH-style female and A-coded female to DEUTSCH-style male configurations with four contacts and two standard cable lengths: 2m and 5m. The assemblies feature black, 6.5mm-diameter, 18AWG cable with PUR sheaths, PP single-lead insulation, and overmolded connectors with thermoplastic PUR housings and contact bodies, snap-lock or bolt-in locking systems, IP68 environmental sealing, and gold-over-nickel plated copper alloy/brass (male) or copper alloy/bronze (female) contacts. The DT Series unshielded assemblies are classified as pollution degree 3, overvoltage category II, and insulating material group I/II and are rated for 4A at 40°C, 230V operation, 2,500V impulse, and 100 mating cycles in operating temperatures extending from -40°C to +80°C for fixed cable and -25°C to +80°C for mobile cable.
Heilind Electronics stocks Off-the-Shelf (OTS) Mini-Fit Sr. Discrete Wire Cable Assemblies from Molex, which help mitigate tooling start-up costs by providing a single source for complete cable assembly solutions that meet IPC-specified designs and can support prototypes through UL testing. The assemblies feature terminal position assurance (TPA) retainers on the housings to prevent terminal back-out and silver-plated high-amperage (46–50A) contacts that provide reliable power delivery at a lower cost than gold-plated contacts and without the need for manual lubrication, like tin-plated contacts require to control fretting corrosion. They also have a dual-beam female terminal design with four points of contact to ensure superior contact reliability and polarized housings to prevent mismating. OTS Mini-Fit Sr. cable assemblies are ideal for use in transportation, automotive, industrial, datacom, telecom, medical, and consumer electronics applications including construction and recreational vehicles, farm equipment, semi trucks, automobiles, factory automation equipment, conveyor belts, process controls, routers, switches, X-ray machines, refrigerators, washers, and dryers.
NorComp's M12 Cable Assemblies are part of its VULCON range of compact circular connectors and are designed for use in a variety of demanding, heavy-duty, harsh-environment applications in the industrial, food and beverage, automotive, and transportation industries, including robotic control systems, ruggedized networking equipment, industrial controls, automation equipment, remote process sensors, and power conditioning systems. The preassembled, overmolded M12 cable assemblies meet IP67/IP68 waterproof requirements and are available with four- and eight-pin male and female M12 connectors with various lengths and temperature ratings, and even custom-built to specifications as needed. The assemblies feature three standard lengths (1m, 2m, and 3m) of 24AWG cable comprised of four twisted pairs with foil, drain, and braid shields and PVC molding material and are available with male-to-male, female-to-female, male-to-female, double-ended, single-end to blunt-cut, straight, and right-angle connector configurations with nickel-plated brass shells, black, UL94 V-0 PBT insulators, gold-flash-plated brass contacts, and nickel-plated brass nuts. They are rated for 30V at 60°C, are RoHS compliant, and are also available in M5 and M8 versions and as custom M12 waterproof cable assemblies.
Samtec's new Micro Mate 1.00mm-pitch discrete wire system is now available for cable-to-board, cable-to-cable, and cable-to-panel applications in equipment including LIDAR, radar, and power management systems, and drones. Compared to other 28AWG assemblies, the Micro Mate system features an extremely small, micro-pitch form factor with a slim body design that allows for height profiles as low as 3.20mm when mated with vertical or right-angle board connectors. Panel-mount assemblies fits panel thicknesses spanning 0.033″ to 0.090″. Rugged features include single or double positive latching mechanisms and optional Teflon cable for high-temperature and halogen-free applications. Standard features include a choice of socket or terminal assemblies in single- and dual-row configurations with up to 40 total dual-leaf contacts that provide reliable connections and up to 3.3A per pin. The Micro Mate system is available as both full-assembly solutions or components with assembly tooling. In addition, Samtec also offers a full line of discrete wire components and cable assemblies ranging from ultra-micro assemblies on a 0.80mm pitch for 32AWG wire to 34A power systems on a 6.35mm pitch with 10AWG wire and about every size in between.
HARTING's Han Gigabit Module is the first modular connector designed for higher-frequency Cat 7A transmission and delivers high-speed, 10GbE transmission in even the smallest of spaces, which makes it a powerful interface for high-data-stream, power, and signal applications in space-constrained railway applications including Wi-Fi networks and infotainment systems. Han Gigabit Module cable assemblies feature robust housings and cables with EMI shielding to ensure high-signal-integrity performance in even inter-vehicle areas with more potential for interference and are resistant to shock and vibration per DIN EN 61373, Category II. Their Cat 7A cables consist of four individually shielded wire pairs that are surrounded by yet another shielded braid to provide peak EMI protection. Free consultations with product experts are available for more information and customization.
Allied Electronics & Automation stocks Belden's Variable Frequency Drive (VFD) Cable Solutions for AC motor drives in harsh environment industrial and transportation applications including factory automation equipment, aircraft, trains, marine vessels, and commercial vehicles — all of which are subject to high voltage spikes, high noise levels, and adverse environmental conditions. Belden's VFD cables were the first of their kind to be released to market and deliver superior radiated and conducted noise protection with robust shield and ground designs compared to tray cables and single-conductor products, as well as increased stability via heavy-duty, industrial-grade XLPE insulation, which provides lower capacitance, reduced voltage spikes, corona discharge, and standing wave magnitude, and increased power transfer efficiency. They also support longer cable runs, improved system uptime, and extended motor lifetimes compared to competing products and deliver proven high-reliability performance, carrying power from AC drive systems to AC motors while effectively handling high power levels of pulse-width modulated (PWM) signals and voltage spikes. The series features industrial-grade, halogen-free PVC cable jackets that are impervious to a range of harsh environmental hazards including oil and sunlight. In addition, their ER rating allows for the elimination of conduits, which enables quicker, easier, and less expensive installations.
Cinch Connectivity Solutions' family of ModICE® Modular Connector Enclosures and SHS Harness Connectors (top) offers a complete line of sealed connector enclosures and sealed I/O headers and harness connectors for rugged electronic control modules in extreme-environment applications including commercial and off-road vehicles and industrial equipment. The family features three distinctly sized enclosure models: ModICE ME, SE, and LE, each of which is available in various configurations with characteristics including vented enclosures, header configurations spanning 18–60 I/Os, blank headers, and headers with integrated RF ports, ferrite filtering, or heat sinks. General specifications for the family include operating temperatures extending from -40°C to +125°C, 10A rated current at 85°C, less than 10mΩ contact resistance, greater than 1,000MΩ insulation resistance, IP67 and IP69K sealing, RoHS compliance, and rugged resistance to shock (5g for 20 pulses), salt spray (96 hours), and temperature humidity cycling (320 hours). Popular ModICE enclosures include the ModICE ME-RF, a unique enclosure header with integrated SMA connectors that enables the quick connection of antennas and other RF devices. Popular headers include the ModICE ME-MX Headers, which come with a USCAR 1.50mm interface, serve as sealed, snap-in covers for the complete line of ModICE ME Enclosures, come in multiple configurations with 12, 20, 24, 32, and 40 I/Os, and are mating compatible with Molex's MX150 1.5mm connector. The family's SHS Harness Connectors (middle) mate to ModICE and SHS headers (bottom) using 1.5mm terminal technology, are available in 18- and 30-way versions, and have integrated grommet seals with protective backplates.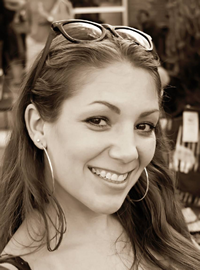 Latest posts by Christine Stieglitz
(see all)