Spring-Contact Connector Products
This week's product roundup highlights some of the most robust, reliable, and versatile spring contact connectors currently available on the market.
Spring-Contact Connector Products
Smiths Interconnect
's Dovetail Connectors with C Series spring probes deliver excellent high-reliability performance in high shock and vibration applications within the industrial, defense, commercial aviation, and medical markets, and eliminate the time and expense associated with typical prototype and low- to medium-volume manufacturing activities. Housed in patent-pending, interlocking symmetrical block designs, the no-tooling-required series enables the simple configuration of any imaginable X-Y pattern and offers a multitude of probe options, allowing users to easily and affordably achieve custom configurations and mixed functionality (e.g., power and ground functions) within a single array and with immediate delivery. Probe options include: 4mm and 6mm compressed heights; surface mount, through-hole, and solder cup termination; and bias tail or, for 6mm probes, bias ball biasing techniques.
BTC Electronics
offers Glenair's Series 171 AlphaLink® SL spring-loaded connectors. Ideal for high-reliability applications that require high shock and vibration tolerance, these precision-machined, high-performance, solderless, board-level connectors deliver up to 50% footprint savings compared to conventional 2mm-pitch solutions and feature 4–40 modular, low-resistance, gold-plated copper alloy contacts on 0.050" centers in double-row arrangements that deliver a minimum of 1,000 mating cycles and are rated for 2A continuous and 3A peak. The series is available with solder cup, wire pigtail, and EMI-shielded PC tail terminations, a wide range of insert arrangements, aluminum alloy shells with electroless nickel or gold plating, high-temperature thermoplastic insulators suitable for surface-mount processes, and stainless steel mounting hardware for robust, vibration-resistant attachment to PCBs with a thickness of 0.062" or greater. Operating temperatures for the series span -65°C to +150°C.
ITT Cannon
's compact, lightweight Combo-D connectors with high-efficiency power (HEP) contacts employ canted coil spring technology, which increases electrical current-carrying capacity by 62–75% compared to conventional size 8 high-power contacts, as well as improves efficiency and reduces costs. Engineered for use in aerospace, defense, and space applications, such as: ordnance, military vehicles, shipboard radar, and satellite systems, the series offers exceptional versatility, including: power and signal in the same layout; crimp, solder, and straight and right-angle PCB terminations; steel, brass, and stainless steel shells with tin over nickel, chromate over zinc or cadmium, and gold plating in panel-, PCB-, and cable-mount styles; and compatibility with any Cannon or competitors' Combo-D connectors. Rated for up to 400Vrms at 60Hz, 5–65A, 28–8AWG wire, 201–500 mating cycles, and operating temperatures spanning -55°C to +125°C, the series also enables quick and easy connection and disconnection.
Mill-Max
's 858 Series ruggedized, long-stroke, spring-loaded connectors are rated for more than one million cycles and up to 9A per pin. Ideal for use in applications that experience side loading, great variation in vertical engagement, high shock and vibration, extreme temperatures, and high cycle counts, the 4mm-pitch series features 2–6 1.27⌀ mating pins plated with 10µin hard gold over nickel for excellent durability, conductivity, and bending resistance; high-temperature, molded Nylon 46 housings compliant with RoHS soldering processes; and a flanged base and integrated mounting tabs for enhanced stability. Through-hole, SMT, and SMT with alignment pin versions are available.
JONHON
's A950 Series environment-resistant, high-density circular connectors provide robust resistance against moisture, salt-spray, mold, water, dust, corrosion, shock, and vibration in harsh-environment military and industrial applications, including engines, and enable various combinations of RF, differential signal, and optical fiber contacts. The versatile series features a scoop-proof design with excellent EMI/RFI shielding — 100MHz to 1GHz minimum attenuation at 85dB (P, W, and Z class) and 1GHz to 10GHz minimum attenuation at 65dB (P class) or 50dB (W and Z class) — and a quick screw coupling with anti-decoupling mechanism. It is available with up to 187 rear-releasing/rear-removal contacts in five sizes (10, 12, 16, 20, and 22), aluminum alloy and stainless steel shells with several plating options, and crimp, solder, and PCB solder terminations, and is rated for 5–40A, 28–10AWG, 1,000 mating cycles, and operating temperatures spanning -65°C to +175°C (W and Z class) and -65°C to +200°C (K class).
Spacecraft Components Corp.
's SecureSeal SCDSR Series connectors for rugged ground defense applications feature: high vibration resistance, a self-locking coupling nut that eliminates the need for safety wiring, a sealed shell with a five-keyway system that prevents the ingress of dust and sand and enhances mated stability, and inserts made of low-smoke, self-extinguishing, halogen-free, elastomeric material. The series meets IP67 standards, has passed a six-foot water immersion test, and is offered with standard spring contacts in eight sizes (20, 18, 16, 12, 8, 4, 1/0, and 4/0), low-insertion-force, high-amperage spring contacts in four sizes (8, 4, 1/0, and 4/0), and aluminum shells in sizes 18–40 with a variety of plating finishes and mounting configurations, including: box-mount, in-line, wall-mount, straight, jam-nut, and right angle.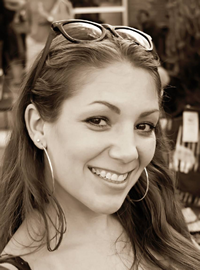 Latest posts by Christine Stieglitz
(see all)