Wire-to-Wire Connector Product Roundup
This week's product roundup highlights wire-to-wire connector solutions from top suppliers.
Wire-to-Wire Connector Products
Power & Signal Group offers the ML-XT Sealed Connection System from Molex, which delivers cost-competitive, ultra-high-reliability solutions in critical vehicle wiring harness applications that can feature up to 50 low-circuit-count connectors and are routinely exposed to high temperatures, chemicals, and other harsh environmental conditions. Designed to reliably prevent fluid ingress and seal loss, simplify assembly, and reduce inventory levels and assembly costs, the system features a one-piece plug housing; a two-shot, advanced liquid silicone rubber (LSR) molded to each plug; integral locking latches with rigid finger grips to ensure secure electrical connections with low insertion force; high-consistency rubber (HCR) seals seated deep within the connector; integrated rear covers that provide wire bending stress relief, eliminate path leaks and seal detachment, and are both standard and removable, unlike the welded add-ons common in similar systems; and Molex's proven XRC™ terminals. The ML-XT Sealed wire-to-wire system is available in 2–18 circuits, nine color-coded housings, and several keying options with IP68 and IP69K sealing and current ratings up to 13A to support tooling widely used by harness makers. It is also UL listed has passed every standalone test in the SAE J2030 standard, along with Molex's own High-Accelerated Life Testing to ensure that the system can thrive in a wide range of harsh-environment scenarios.
BTC Electronics offers Amphenol Pcd's rugged, rectangular Solaris Series plastic connectors, which are small (<0.5" tall), lightweight, and gender-reversible, allowing both plugs and receptacles to be configured with pins or sockets to suit individual application requirements. Designed for low- and medium-power applications with high mating cycles and wide operating temperatures, including aerospace lighting, power and signal distribution, military rotorcraft, and UAVs, the series delivers reliable performance, ease of use, and critical space and weight savings. A mated pair weighs less than the lightest D-Sub backshell, and only a fraction as much as the company's M24308/8-11F D-Sub connector, all while fitting inside the space needed for a standard D-sub with strain relief. The series also features a spring-loaded slide lock mechanism and snap-on strain relief that enable single-handed, tool-less mating and effectively eliminate the foreign object debris commonly found in typical screw-mount D-Sub connectors. Each housing is ultrasonically welded to achieve void-free joints and crack-free operation, and has raised finger ridges for a sure grip, integrated cable tie access holes for zero-footprint connections to bulkheads or cable bundles, and interfacial seal and wire seal grommets for IP67 protection from dust, moisture, and corrosion.
TE Connectivity's Universal MATE-N-NOK connectors utilize a combination of pins and sockets intermixed in the plug and cap housings to achieve excellent electrical performance in a 0.25" (6.35mm) centerline design rated to 600VAC/VDC at 19A. These connectors are available in circular, flanged, and bulkhead wire-to-wire, wire-to-panel, and wire-to-board configurations with a 0.2" (5.08mm) pitch, tin or gold plating, optional sealing, and colored housings in various materials to satisfy the needs of diverse applications, including appliances, HVAC systems, power supplies, fan modules, lighting, and wire harness assemblies. Their housings feature positive polarization, positive locking, and rear cavity identification for easy, error-resistant assembly, and the contacts enclosed within are removable to support system flexibility. They can accommodate 30–10AWG wire and are offered with 2–10 in-line positions, 1–15 wire-to-wire positions, and 2–15 wire-to-board positions. Variants compliant with glow wire are also available.
AVX's 9286-200 Series reduced thru-wire connectors and 9286-250 Series reduced junction box connectors accommodate simple strip-and-poke-home wire insertion and twist-and-pull extraction, eliminating the push-button activation mechanism common to traditional two-piece plug-and-socket wire-to-wire connectors to deliver significant space and cost savings. These discrete wire-to-wire connectors feature a high-force stainless steel spring contact that provides maximum wire retention for solid and stranded 18–24AWG wire, are rated for 300VAC and operating temperatures spanning -40°C to +130°C, stand a mere 4mm high, and measure a slight 16mm in length. Available in 1–6 positions, the 9286-200 Series connectors measure 8–24mm in width and have three current ratings: 3A (24AWG), 5A (22 and 20AWG), and 8A (18AWG). Available in 4–8 positions, the 9286-250 connectors measure 8–16mm in width and have four current ratings: 3A (24AWG), 7A (22AWG), 8A (20AWG), and 9A (18AWG). Both series also feature a glass-filled, UL94 V-0 Nylon 46 insulator, copper alloy contact materials with tin-over-nickel plating, and three-cycle durability. Ideal applications span a broad range of industrial power and signal applications, including smart grid meters, breakers, and panels; SSL fixtures, signage, and streetlights; commercial building controls, and security and fire sensors; and industrial machine controls, such as motors, drives, solenoids, sensors, fans, and pumps.
Weidmüller's modular Klippon® Connect A-Series Control Voltage Distribution Terminal Blocks offer enhanced efficiency and flexibility in control panel applications, support the compact design of control voltage distributions, and ensure effective control voltage for control cabinet equipment. These modular connectors have a uniform design with two possible constructions, alternating or grouped, that can be tailored to every type of machine. They save space and prevent miswiring by combining positive and negative potentials on a single terminal block, enable quick fuse replacement by simply opening and releasing the fuse holder from the compound, feature colored pushers for quick and easy potential discrimination in control current distributions from 0–600V, and have two cross-connection channels for attachments and expansions.
Newark element14 allows customers to modify any of the Samtec connectors they carry to achieve unique configurations designed to satisfy individual application requirements without custom pricing or extensive lead times. Available in 1.8 trillion possible configurations, including numerous wire-to-wire connector solutions, these modified connector products are standard Samtec modifications, rather than custom parts, and offer 2D and 3D models in more than 150 file types for compatibility with any prototyping software. Configurable characteristics include the number of pins per row, lead style, plating material, flow option, polarized position, tails, shrouds, key shrouds, alignment pins, pick and place pad, and tape and reel.
Heilind Electronics
 offers TE Connectivity's Miniature SlimSeal Connectors. Ideal for use in harsh environment applications with high humidity, including outdoor lighting, HVAC equipment, commercial refrigeration lighting, and kitchen appliances, these IP67-rated wire-to-wire connectors feature a compact design for space savings, preassembled seals to reduce assembly time, and a press-release spring latch to help ensure secure mating. The series is available in two and three positions for 22–18 AWG wires, and in three colors to enable easy identification and assembly.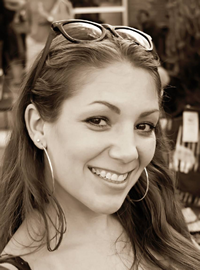 Latest posts by Christine Stieglitz
(see all)