High-Speed Fiber Cable Assemblies for the 5G Era
Active optical cables are key components in the high-speed systems needed to handle the exponential increase in data traffic that will come with 5G. Connector companies are helping data centers upgrade with these smart solutions.
According to the figure being passed around at DesignCon 2020, only 15% of the 5G infrastructure has been installed so far. That means a tremendous number of transmitters, small cells, antennas, data centers, and devices will be needed — and millions of miles of cable, connecting continents, data centers, service providers, and users.
After years of anticipation, fiber optic cable will take center stage, with its security and scalability, and ability to provide the low latency and high data-carrying capacity required for the infrastructure buildout. The foundation of long-distance communications is undersea cable, stretching across the ocean floor and circling the globe. The largest  companies are investing in their own cable to ensure that their massive data demands can be met. Google's Dunant transatlantic cable (made by SubCom) is expected to transmit 250Tb/s when it goes live this year, thanks to a construction that includes 12 pairs of fiber optic strands; NEC says it's making 20-strand cables and is looking at the next step up from there. (Currently, a single strand of fiber can handle 100TB/s, or 100,000Gb/s.)
A combination of fiber optic and copper cabling is making the connection between those deep sea cables and the land-based infrastructure. Some of the fiber infrastructure is already buried or integrated into urban power utility grids. Yet millions of miles more is needed to link small cells, regional user networks, and data centers. Due to its ability to handle very high data volumes and speeds, fiber will augment or replace cabling at the data center level and be the logical choice in new installations.
Active optical cable (AOC) assemblies are coming into focus as powerful conduits for the large amounts of data that will need to be transferred in data center and high-performance data applications. AOC assemblies incorporate electrical and optical components and feature an integrated active optical transceiver on both ends of the cable, instead of connecting to a separate transceiver unit. The transceiver is embedded in a high-density QSFP+ connector (defined by the SFF-8436 specification) that is permanently attached to the shell and fiber. Connector companies are continuing to add new functionality to these powerful interconnects. AOCs are typically used for short-range connections between devices, such as in servers, switches, hubs, or shelf-to-shelf or rack-to-rack architectures.
Connector and cable companies are also developing faster, more flexible, and condensed cables that fit into compressed spaces and generate less heat. Current configurations can handle aggregate data rates beyond 400Gb/s. At DesignCon 2020, we saw a wide range of AOCs that are targeted for use in 5G infrastructure applications. As the other 85% of the 5G network is installed, we will see great demand for these powerful components.
Amphenol ICC offers a range of AOC products, including its QSFP-DD to QSFP-DD 200G and 100G QSFP28 to QSFP28 AOC assemblies. Amphenol's Mini-SAS HD Active Optical Cable features eight cores of loose multimode fiber in a 3.0mm jacket and supports PCI Express Gen3 applications. The 300G CXP2 to CXP2 Active Optical Cable for data center and high-performance applications features 24 cores of multimode fiber in a 3.0 round jacket and hot-pluggable connector interfaces.
Hirose's new BF4MC active optical connector includes a semiconductor component that converts an electrical signal received from a board and transfers the data via optical fiber. Combined with the company's BF4-IFC active optical cable, these assemblies provide high signal quality, low power consumption, and EMI noise prevention.
Samtec's proprietary cables are used in numerous AOC configurations, including its FireFly mid-board optical Flyover system. This assembly easily performs at 28Gb/s per lane and provides a path to 56Gb/s. It features a rugged micro connector that is interchangeable between copper and fiber.
TTI, Inc. offers AOC assemblies made by 3M. These direct-attach QSFP+ and Cx4 assemblies deliver four channels of bidirectional data, have a bend-insensitive fiber construction, and are lightweight, flexible, and routable in lengths up to 100m.
TE Connectivity offers an extensive lineup of fiber products, including CDFP and QSFP+ form factors. The CDFP AOC solutions can handle 400Gb/s in a bidirectional data transport and the QSFP+ supports 200Gb/s per port. TE's AOCs embed the CoolBit optical engine behind the transceiver ends to reduce power consumption and heat buildup.
Bizlink's AOC portfolio includes 400G QSFP-DD, 100G QSFP28, and 40G QSFP x 4 SFP configurations. The OptiWorks 400G Active Optical Cable product offers eight independent data transmission channels and eight data receiving channels via the multimode fibers, each capable up to 50Gb/s operation to achieve an aggregate data rate of 400Gb/s over 100 meters transmission.
Foxconn Interconnect Technology (FIT) offers QSFP+, QSFP+, breakout, SFP+, SFP28, QSFP-DD, and CXP and CXP2 AOCs in edge-pluggable variants. These ready-to-use cable assemblies streamline data center installations by integrating internal active electronics with a lightweight cable.
Leoni's innovative active fiber optic cable solution features a monolithic silicon photonics chip that integrates nano-electrical and nano-photonical structures. This QSFP-DD form factor is connected to the chip, which is coupled to proprietary single-mode fibers.
L-Com's AOCs are available off-the-shelf in lengths ranging from 1 meter to 100 meters. Integrated transceiver types include SFP+, SFP28, QSFP+ and QSFP28 and offer blazing fast server-to-server, server-to-switch, and server-to-router connectivity in enterprise networks and data centers.
The demand for active optical cable and connectors is expected to increase by 19.7% by 2026, reaching $383.0 million (from $80.9 million in 2018) as our need for speed continues to grow.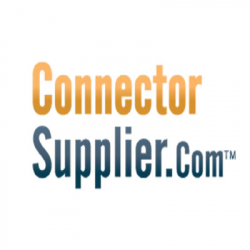 Latest posts by Connector Supplier
(see all)