New Product News: June 2018
Summary coverage of the latest, new-to-market connector and cable products
Interconnects, etc.
Hirose expanded its rugged ix Industrial Series, which combines a small, robust design with high-speed data transmission capabilities, with the addition of an IDC plug assembly that decreases customer installation time by up to 50% due to the reduction in wire stripping, twisting, and soldering and a B-key version that meets the needs of rugged, non-Ethernet applications that require high-speed performance in a compact design. Designed to facilitate significant size reductions in smart manufacturing equipment — including industrial machine vision modules, factory automation controllers, industrial robotics, programmable logic controllers, security systems, servo amps, servers, and robotics — the series reduces installation space by up to 75% compared to RJ45 solutions and up to 28% compared to competing snap-in I/O connectors, features optimized EMI/ESD shielding for safe and secure data transmission up to 10Gb/s over Cat 5E and Cat 6A cabling, and is compliant with IEC PAS 61076-3-124. Currently available in an upright right angle version with maximum dimension of 22.9mm x 8.4mm x 14.3mm, the receptacles can be mounted in parallel with a pitch distance of only 10mm, which is particularly beneficial when multiple connectors are positioned on a single PCB side-by-side. The series is rated for 1.5A per pin, 30VAC, operating temperatures spanning -40°C to +80°C, and more than 5,000 mating cycles, and supports THR soldering as a substitute to manual soldering, which contributes to high PCB retention force.
ODU added a new high-current module to its ODU-MAC® Blue-Line. Designed for use in high-current e-mobility and corresponding charging applications, the new module has two-part, 12mm-diameter contacts with torx screw connections that enable easy contact replacement from the mating side, can carry up to 225A and 1,000V, and are currently available in 25, 35, and 50mm2 crimp terminations.
SCHURTER's compact C20F Series front-mounting, filtered IEC appliance inlets are now equipped with standard V-Lock cord retention features and manufactured with a material that meets the increased glow wire tests according to IEC 60127-6 Edition 2 and IEC 60335-1 for appliances in unattended use. The filtered AC connectors are designed to improve filter performance in power supplies and distribution units rated up to 3,500W and either 16A at 250VAC (IEC) or 20A at 250VAC (UL/CSA). They are ENEC and cURus approved, are available with standard and low-leakage medical filter options, and are suitable for use in commercial ICT equipment according to IEC 60950, medical equipment according to IEC 60601-1, and home appliances according to IEC 60335-1, as well as general industrial applications that would benefit from the convenience of a removable cord.
Nicomatic's new 1.27mm-pitch EMM Micro-Connectors are designed to withstand harsh military and aerospace application environments and meet the performance requirements of MIL-83513. The miniature, rugged connectors are 20% lighter than standard Micro-D connectors and integrate features including reversed contacts, 90° back protection, and interchangeable hardware with locking and guiding functions for both male and female connectors. They also provide extreme modularity, enabling both board-to-board and 30–24AWG board-to-wire configurations with 4–60 signal/digital contacts. Cabled versions can be shipped preassembled or crimped onsite. Ideal applications for the series extend across the civil avionics, defense and security, energy, medical, space, telecom/datacom, and transportation markets.
Bulgin's new PX0833 and PX0893 Buccaneer Series Shielded, Panel-Mount Ethernet Connectors reduce crosstalk and system noise and support 10Gb/s data transmission speeds over 100m distances in Cat 6A wiring installations with 500MHz bandwidth. They are also sealed against dust and moisture to IP68 and IP69K, made from self-extinguishing UL94 V-0 polyester, mating compatible with existing Cat 6A patch cord flex connectors and standard RJ45 patch cords, and rated for operating temperatures spanning -20°C to +70°C. Additional features include single-hole fixing devices with panel sealing gaskets that can be supplied with an earth wire. Detailed 3D models are available to enable easy, rapid mechanical designs, and Cat 5E versions are also available as a shielding backshell accessory for the PX0833 Series.
AVX extended its new series of pin jumpers for board-to-board (BTB) and module-to-module connections in SSL and other low-pin-count industrial applications with a new two-position pin jumper. When used in conjunction with its new 2.5mm 70-9296 Series STRIPT™ horizontal, poke-home contact without a wire stop — which is both the first industrial poke-home connector available without an integral wire stop and, currently, the only industrial poke-home connector with a 2.5mm profile — the new one- and two-position 10-9296 Series BTB pin jumpers are allowed to pass straight through the contacts until the final, user-defined mating dimension is achieved. This allows the jumpers to absorb the maximum amount of component and assembly tolerances during the mating process and effectively eliminates the PCB and housing tolerance stack-up issues common to traditional connector systems in linear and coplanar applications. The new jumpers are rated for 9A, 300VAC based on contact spacing, three-cycle durability, and operating temperatures spanning -40°C to +105°C, and are currently available in one- and two-position versions in two different pin lengths: 26mm pins to support linear BTB connections and currently unique-to-market 38.15mm pins to support linear module-to-module connections where the contacts are embedded within plastic housings. All four variants have a standard 1mm diameter pin that is mating-compatible with competitors' traditional 4mm-pitch poke-home connectors, but offer two clear advantages to competing jumpers: a shortened insulator (just 5.1mm) and a unique insulator geometry with dual-chamfered ends that provide a watertight connection when seated within a corresponding housing cavity.
Cinch Connectivity Solutions' new Johnson 2.92mm Solder End-Launch Jack Connector operates at up to 40GHz while achieving better than 16dB return loss, 3dB insertion loss, and VSWR below 1.25. It also provides a smaller, lighter, and more economical alternative to robust screw-on versions, but with similarly excellent electrical performance and quality, and is ideal for data signal transmission in test and measurement equipment, semiconductor ATE test boards, and instrumentation text fixture hardware.
Weidmuller expanded its OMNIMATE® Power PCB terminals with the new OMNIMATE Power LUF and LUFS 10.00 terminal designs. Both terminals feature the company's PUSH IN connection system, which enables the easy, low-force wiring of wiring solid, stranded, or ferruled wires from 18–6AWG to help prevent potential PCB damage, and select versions are UL/CSA rated for use up to 61A and 600V according to UL1059 to satisfy the requirements for high power applications including drive controllers and photovoltaic converters. The LUF 90°orientation terminal is available in 1- to 12-pole versions with a tool-free actuating lever above each clamp; the LUFS is available in both 90° and 180° orientations with 1- to 12-poles and uses a screwdriver push button to open each clamp; and both feature easily accessible diagnostic testing points and a redundant pin design for increased stability on the PCB to eliminate the need for an additional fixing flange and improve system integrity.
Molex introduced improvements to its best-selling PicoBlade connector to meet the growing need for secure wire-to-wire and wire-to-board connections in rugged, high-density consumer, healthcare, industrial, and automotive applications. The 1.25mm-pitch PicoBlade connector provides the same 1A of current as similar 2mm-pitch systems in compact design that delivers approximately 45% PCB space savings and has four header options for enhanced versatility. Its two-point connection design delivers secure electrical connections, even under low-current, low-voltage, and high-vibration conditions, its polarized crimp receptacles prevent mismating and have two latching ramps to minimize uncoupling due to shock or vibration, and its solder tabs ensure header-to-PCB retention and act as a strain relief for SMT solder tails to minimize the chance of cracked solder joints due to mishandling. The single-row system is offered in both vertical and right angle connections with 2-, 8- and 15-circuit configurations, surface-mount and through-hole headers, and off-the-shelf assemblies in a variety of cable lengths, as well as with optional vacuum caps for automated, high-volume placement.
HUBER+SUHNER released the first connector dedicated to RF energy. Designed to handle the high power levels with the lowest possible losses to support high amplifier reliability and long lifetimes, the new RFEX connector integrates the coaxial structure directly into amplifier housing bodies to eliminate gaps caused by separate mounted connectors or feedthroughs, mitigate sources for EMC issues that cause RF leakage, simplify the assembly process, and reduce the cost of ownership. It currently supports antennas for connecting rectangular waveguides, dielectric filled waveguides, and cooking cavities, in addition standard interface (e.g., N-type) connecting cables, has a minimal PCB footprint to enable compact RF designs with higher integration densities, and supports impedances lower than 50Ω to simplify transistor output matching, increase bandwidth, and reduce losses.
Designed to maximize radial and axial float in board-to-board applications, Amphenol RF's new HD-EFI Series three-piece mating system features limited detent, smooth bore PCB connectors joined by a floating bullet adapter designed to ensure crash-proof mating and has a 50Ω microminiature interface ideal for blind mating and mating multiple RF lines between PCBs. The system has an operating frequency of DC to 6GHz, enables 1.4mm of axial and radial float with a maximum float angle of 5°, and is available in through-hole, surface-mount, and edge-launch designs with various bullet lengths for enhanced versatility.
Ironwood Electronics' new high-performance SG-BGA-6475 BGA socket for 1mm-pitch, 240-pin, 17x18mm BGA ICs operates at bandwidths up to 27GHz with less than 1dB of insertion loss. The socket uses the industry's smallest footprint, solderlessly mounts to PCBs, has a heat sink lid for 5W dissipation, and comes with a ball guide for the precise alignment of BGA balls to PCB pads. It also has a -35°C to +125°C temperature range, typical contact resistance of 20mΩ per pin, 0.15nH pin self inductance, 0.025nH mutual inductance, 0.01pF capacitance to ground, and 2A per pin current capacity.
Cinch Connectivity Solutions also released the new Johnson 2.4mm Series 50GHz High-Frequency Adapters. Designed to support 5G standards, the new millimeter wave adapters are available in both same series and between series and operate at up to 50GHz with VWSR performance better than 1.25. The same series offers a unique, right angle jack-to-jack adapter, and the between series include 2.4mm-to-2.92mm and 2.4mm-to-SMP adapters.
Lumberg's new WG02 high-performance, IP67 circular connectors come in three frame sizes (12, 15, and 20mm in diameter) and each feature a contact base, grip body, and cap nut made of robust, UL94 V-0 PBT, 2–12 gold-plated brass contacts, and a Quicklock mechanism made of chromium zinc alloy that securely snaps the pins into the sockets and conveniently disengages with the press of a finger. Designed for use in metrology, apparatus and mechanical engineering, traffic management systems, and studio and stage technology, the cable connectors, cable sockets, and chassis sockets with captive silicone covers are rated for 3–20A, 125–500V working, 1,500–2,500V surge, and temperatures spanning -40° to +80°C.
BURNDY's new CONSTRICTOR™ GSC26 connector is used to ground cable to steel in application where drilling is either impossible or undesirable. It accepts copper conductors spanning #6–2/0AWG and beam thicknesses spanning 0.125–0.625", is capable of parallel and perpendicular orientation, and doesn't require any special tooling for installation, and is cULus listed and approved for use in extremely volatile environments.
Amphenol RF introduced a selection of redesigned TNC connectors optimized for use with low-loss 195 and 240 cables, which provide enhanced shielding with a bonded foil construction to ensure 100% coverage. The connectors provide consistent electrical performance at high frequencies and improved grounding for more stable RF performance, have a nominal impedance of 50Ω, exhibit low return loss from DC to 6GHz, and are available in straight jack, bulkhead jack, straight plug, and right angle plug configurations with crimp terminations for quick and secure assembly. They require standard hex crimp tooling and are ideal for industrial, wireless, and broadband applications that require high reliability and low signal loss.
Ironwood Electronics' new BGA socket (CBT-BGA-6075) features a stamped spring pin with 31g actuation force per ball and a cycle life of 125,000 insertions. Ideal for use in hand test, temperature cycling, and debugging applications in development and MCU characterization, the socket also has a floating guide for precise ball-to-pin alignment, is rated for 4A per contactor at 60°C temperature rise, and exhibits 0.88nH self inductance, less than 1dB insertion loss at 15.7GHz, and less than 30mΩ contact resistance. 
Wire, Cable, and Assemblies
Smiths Interconnect's new SpaceNXT™ Q Series flexible coaxial cable assemblies offer many benefits over QPL and COTS products. These high-reliability, low-loss assemblies are pre-tested and qualified for space orbit environments, are readily available as cut-to-length, dual-terminated assemblies, and are offered at cost-effective prices. Currently available in three models (105Q, 190Q, and 200Q), the series covers key performance characteristics at various frequency bands from DC to 40GHz, are available in standard mechanical lengths and phase-matched electrical lengths, are resistant to temperature variations, and meet the rigorous outgassing requirements of NASA/ESA when tested per ASTM E595 standards. The assemblies combine stainless steel or beryllium copper contacts with silver-plated copper cable conductors that are directly soldered to achieve robust cable-to-connector transitions, are assembled in a controlled environment in which each solder joint is verified using real-time X-ray inspection, and can be validated for a wide range of engineering model and flight model requirements at the company's in-house test laboratories or one of its qualified external facilities.
Pasternack launched a new line of skew-matched cables for high-speed digital tests of 10Gb/s to 28Gb/s, including differential signals, bit-error-rate testing, and eye diagrams. Ideal for use in the networking, semiconductor test, and supercomputing industries, the cables are currently available in three extremely flexible models comprised of micro-porous PTFE cable dielectric with triple-shielded outer conductors, 2.92mm male connectors, and finger-grip coupling nuts. They have a 1ps delay match, are 100% tested for skew match, deliver excellent VSWR of 1.4:1, include polarity indicators and restraint bands to maintain pairing, and have a frequency range of DC to 40GHz, covering two channels with 50Ω nominal impedance.
Canfield Connectors' new GatorMate™ GT Series molded, fully assembled, tested, and ready-to-use connector modules have all of the positive attributes of standard Deutsch solenoid valve connectors, but enhance the wired section of the connectors by eliminating field wiring, which negates the labor, expense, and error potential of crimping, assembly, and testing in the field, and adding indicator lights that allow users to see applied power and streamline troubleshooting. The compact, rugged connectors are rated IP67, resistant to shock and vibration, and are available in plug and receptacle versions in many high-durability wire styles and lengths for application versatility.
Based on an improved, newly patented inner conductor construction, HUBER+SUHNER's new SUCOFLEX® 118 combines the low loss, excellent VSWR, and CW power handling of SUCOFLEX 106 with the phase stability and flexibility of SUCOFLEX 106 P. The new cable assembly delivers precise measurements with utmost stability, high signal integrity, superior phase stability and return loss, and an excellent performance to price ratio, is applicable up to 18GHz, and is available with a wide range of connectors, crush-resistant ruggedization, and LSFH jackets.
L-com Global Connectivity released a new series of Ethernet cable assemblies with high-flex, braided-shield cable constructions. Designed for continuous motion, factory automation, robotics and machine vision applications in which standard patch cables are likely to fail, the new ultra-flexible cable assemblies are rated to 10 million flex-cycles at 1.82″ (46.4mm), feature tinned copper braided shields to protect against EMI/RFI interference, and are EIA568 color-coded for compatibility with standards based installations. The Cat 5e cable assemblies are currently available with shielded RJ45 connectors on each end of a Cat 5e cable, with shielded RJ45 connectors on one end and RJ45 GigE connectors on the other, and with RJ45 GigE connectors on both ends.
Tools, Accessories, and Development Kits 
TE Connectivity introduced next-generation INSTALITE molded boots with Rayaten shielding. Designed for harnessing applications that need EMI shielding, the boots feature flexible, new EMI shielding materials that help reduce the risk of cracking and speed up the heat shrinking recovery process, are easier to install than previous designs, and are available in an expanded range of configurations, including several T-shape options and multi-way harness breakouts, in addition to System 25, System 100, Zero Halogen, and LFH compounds. The boots provide more than 70dB of attenuation for frequencies spanning 3kHz to 1GHz and EMI continuity from harness braid through backshell, and each is environmentally sealed and designed to resist both abrasion and damage from most military fuels, oils, and greases.
Phoenix Contact's new VIP-ER with I/O Accessories (IOAs) system, optimized for Honeywell Experion Universal I/O, helps process engineers get the most out of Universal I/O. The system combines high-speed marshalling with the ability to configure wiring functionality on a per-channel basis and consists of a base, several function-specific input/output modules, and compatible accessories. The VIP-ER base serves as a universal foundation to connect any signal and easily marshal it back to the controller, and the individual I/O accessories can accept a wide variety of signal types, including passive feedthrough, fusing with BFI and disconnects, digital relay, analog signal isolator with HART transparency, 24V, 120V, and 240V digital signals, and 2-, 3-, and 4-wire analog signals.
SCHURTER launched the Engineering TouchKit, a professional maker kit in the form of a PCAP touchscreen that allows development engineers to experience the advantages of the latest projected-capacitive technology firsthand. The kit contains a plug-and-play 10.1" PCAP touchscreen sensor with a SCHURTER controller based on an EETI chip, a USB stick with software for analyzing and evaluating the controller data, and a stylus pen that offers high accuracy and pressure measurement. Notable features include multi-touch capability and simultaneous operation detection of up to 10 fingers, resistance to moisture, and automatic sensor shut-off if exposed to large amounts of water. Correctly installed, the touch controller is immune to interference voltages in the form of wave fields up to 10V/m or wired up to 10Vrms.
Pasternack's new four-in-one, 3.5mm, short-open-load-through (SOLT) calibration kits are available in two lightweight models with a 26.5GHz calibration capability, gold-plated 3.5mm connectors, and a handy lanyard. Designed for test and measurement, field testing, antenna measurement, and cable verification applications in the telecommunications, military, automotive, medical, aerospace, and consumer electronics industries, the SOLT calibration kits have 50Ω nominal impedance, a maximum phase deviation of ±2°, and 30dB minimum return loss.
Sonobond Ultrasonics' new Dual Head Spot Welder is the first ultrasonic welder capable of joining up to 100 layers of copper or aluminum foil to battery terminals in a single pulse without tearing. It can also weld heavy wires with cross sections up to 80mm2 without fracturing the terminals and achieves higher-strength welds with lower power than competing welders. Designed to provide automotive component manufacturers with a reliable, environmentally friendly, and cost-effective solution for assembling high-voltage terminals used for storage in EVs and HEVs, the welder also employs the company's patented Wedge-Reed ultrasonic bonding system, which combines high vibration force and low-amplitude coupling and, as a result, negates the need for any external heat, fluxes, or filters, produces no arcs, sparks, or flames, and provides the unique ability to weld lightly tinned and oxidized non-ferrous metals, even without pre-cleaning. It also has a digital display that enables weld control by time, energy, or distance, a power supply with a built-in microprocessor, automatic frequency overload protection, and storage and recall of up to 250 protocols, and comes equipped with heat-treated steel Taper Lock Tips that can perform up to 30,000 welds before redressing and up to 100,000 welds before replacement.
TE Connectivity released a new, cost-optimized backshell for its DEUTSCH DMC-MD single-module connectors, which are among the most widely used connectors in aircraft in-flight entertainment, cabin, and avionics systems. In addition to cost savings, the new backshell also offers advantages including a hermaphroditic design, two stainless steel, self-tapping screws that eliminate the need for thread-locking screws, molded in TE logos and part numbers that reduce additional manufacturing steps and costs, and enhanced gripping features that ease mating and unmating and can be placed on both the plug and extender receptacle.
Phoenix Contact's single-channel, 6mm electronic PTCB overcurrent protection has an adjustable range from 1–8A, is well suited for protecting critical loads, and can be adjusted to accommodate the exact number of loads that require protection. The PTCB can also bridge to the company's complete CLIPLINE terminal block portfolio, enabling reduced inventory and simplified integration.
Interested in a specific market? Click a market below for current articles and news.
Automotive, Consumer, Industrial, Medical, Mil/Aero, Datacom/Telecom, and Transportation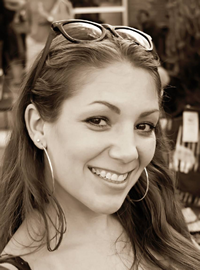 Latest posts by Christine Stieglitz
(see all)