Meet Joe Nelligan, Molex's New CEO
This fall, Martin P. Slark, the company's longtime CEO, passed the torch to Joe Nelligan. We talked to Joe about his long career with Molex and found out what he has in mind for the future.
College interns may dream about becoming the company's CEO someday, but for most of them, it's just a dream. For Joe Nelligan, however, it became a reality. As an electrical engineering student at the University of Notre Dame, Nelligan won a coveted internship with Molex. That formative experience led him to pursue a career with the company. He ultimately served in many roles, including Vice President of Sales & Marketing for the Americas Region, Vice President of the Datacom Global Industry Group in the Global Sales & Marketing Division, Vice President of Product Development and Commercialization for the Global Commercial Products Division, Senior Vice President of the Global Commercial Products Division, and President of the Global Commercial Products Division, and COO.
During his three decades with Molex, Nelligan has seen the company grow exponentially, join Koch Industries, and become one of the electronics industry's most influential and innovative leaders in an environment of dramatic technological changes. Now he will guide the company into its next era. We talked to him about what to expect.
Your first experience with Molex was as a college intern. What made you want to develop your career there?
I was introduced to Molex by John Krehbiel Jr., who suggested I apply for an internship. I took John's advice and was hired as a summer intern for my junior and senior years of college. Because I was really impressed with the people I had worked with, I jumped at the opportunity to work there full-time after I graduated. Molex was successful, growing, and I already knew how employees were given opportunities to develop and grow with the business. That is also why I am a strong supporter of our intern program at Molex. There is a lot of opportunity at Molex and we have built a very robust intern program over the years. It has given us the ability to bring in some terrific talent.
You are filling the very big shoes of Martin Slark. What did you learn from him?
Martin has been an outstanding leader for Molex. He has been at the forefront of making sure the company proactively adapts as our markets and customers continue to change. Martin has also worked very hard to nurture and enhance our culture by making sure our employees were always a priority. We have a very strong and unique culture and I think that is what really differentiates Molex and makes it such a great place to work.   
You've spent some time living overseas. How did that experience impact you?
Living and working in Singapore for four years was a wonderful experience for me professionally and for my family. So much of our business and the electronics industry centers around Asia, and having the opportunity to live and work in the region really helped me better understand the culture, customers, and employees in that region.
How does your background in electrical engineering inform your work with the company today?
Our business centers around connectivity and electronics, which at the core is electrical engineering. A key challenge today in our industry is how to send more data, reliably, at higher speeds. Having a background in electrical engineering helps me keep pace with technology trends.
I understand you hold 11 US patents. Can you tell me about those designs?
Most of my patents were in the areas of Data Communications. One of my patents involved the 15 pin VGA connector that has been used on notebook and desktop computers for many years to support video communication to remote monitors.
You've watched Molex grow for more than three decades. What factors do you see as drivers of the company's success?
A key factor for Molex's success over the years has been staying close to our customers and changes in the market and ensuring we are proactive in building the capability and products our customers need to be successful in this ever-changing world. As we look forward, a big challenge will be attracting, developing, and retaining the talent that we will need to execute our vision and strategy.
What are the biggest challenges that Molex and the electronics industry are facing today?
Connectivity is a key driver in this environment and the rate of change and disruption in our markets continues to accelerate. Making sure we are keeping ahead of the changes to meet the needs of a market that is changing so rapidly is a big challenge. And, we continue to see trends of transmitting more data at ever-increasing speeds in smaller spaces.
Can you share any information about new initiatives you'd like to see the company pursue under your guidance?
We are introducing initiatives to help us aggressively grow in our focused markets – Automotive, Industrial, Datacom, Medical, and Consumer/Mobile. Each of these industries is rapidly transforming and we are working to develop the capabilities we need to be relevant and successful. That includes the work we are doing to build a world-class supply chain that will allow us to execute our solutions vision. And it includes a Digital Transformation initiative that extends from product design, through process design and development, and then into our manufacturing plants.
Outside of work, how do you like to spend your time?
I enjoy spending time with my wife, Katie, and our seven children since family is very important to us. I also enjoy playing tennis and golf.
Interested in a specific market? Click a market below for current articles and news.
Automotive, Consumer, Industrial, Medical, Mil/Aero, Datacom/Telecom, and Transportation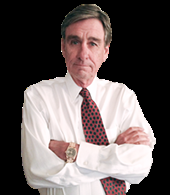 Latest posts by Ron Bishop
(see all)