AVX 9175 and 9176 Series
AVX 9175 and 9176 Series Redesigned
AVX Corporation has significantly redesigned its well-established, surface-mount, wire-to-board 9175 and 9176 insulation displacement connector series to both simplify and reduce the cost of the wire termination processes used to connect discrete wire components to a PCB, bring power and signals onto a PCB, and daisy-chain PCBs together to form a continuous string.
The new, next-generation IDC connector series feature a simplified, one-piece design that enables users to insert discrete wires into the cap without stripping them first and to simply press the cap down to provide a secure gas-tight termination. Originally developed for harsh industrial and automotive applications, the new 9175 and 9176 IDC Series are ideal for a broad range of solid-state lighting, smart grid, commercial building, point-of-sale, and medical applications, as well as a wide variety of automotive, transportation, and industrial machine control applications.
"First introduced in 2006, the 9175 and 9176 IDC Series have been implemented in hundreds of applications of varying complexity due to their small size and reliable performance," said Tom Anderson, product manager at AVX. "The new one-piece connectors provide users with the same gas-tight connection and long-term reliability that they have come to expect, as well as with a simplified and lower-cost termination process, as fewer components directly translates to fewer expenses."
AVX's new 9175 and 9176 IDC Series feature a plastic cap that retains the contact in position prior to automatic placement and then acts as the assembly tool to terminate the wires, negating the need for special tooling, soldering, or crimping. Providing the same gas-tight connection to the PCB for long-term reliability as the existing 9175 and 9176 Series, the new IDC series are also identical in contact and footprint, which enables full backward compatibility and functionality.
Available in two configurations for maximum flexibility, end-stop and through wire, the new 9175 and 9176 IDC Series utilize nylon UL94VO insulator material and feature phosphor bronze contacts and tin over nickel plating. Rated for use in temperatures ranging from -40°C to +125°C, both series also feature a durability of three cycles.
The 9175 IDC Series features a current rating of 1A per contact, a voltage rating of 150VAC, and is designed to terminate 26-28AWG wires. The 9176 Series features a current rating of 10A per contact, a voltage rating of 300VAC, and is designed to terminate 18-24AWG wires.
Advantages over competitive insulation displacement connectors include a higher current rating, a higher voltage rating, a higher allowable maximum temperature, and end-stop cover option, the option to support smaller AWGs, a lower profile, and a smaller footprint both on the board and volumetrically.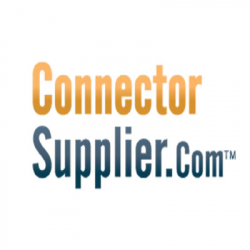 Latest posts by Connector Supplier
(see all)