High-Speed Connector & Cable Product Roundup
This week's product roundup features high-performance, high-speed solutions from leading connector and cable assembly suppliers.
High-Speed Connector & Cable Products
Samtec
's SEARAY™ high-speed, high-density, open-pin-field arrays offer enhanced design flexibility with stack heights spanning 7–18.5mm and compatibility with a variety of high-speed protocols and standards. Rated for speeds up to 56Gb/s PAM4 and 28Gb/s NRZ, the system is available with up to 560 Edge Rate® contacts, which minimize the effects of broadside coupling and decrease crosstalk for superior signal integrity performance. Robust when mating and unmating, the contact system also features a long contact wipe up to 1.5mm, which improves mating angle tolerance, straight, consistent material cross-sections for increased impedance control, and press-fit tails or solder-charged terminations for ease of processing. The SEAF and SEAM Series feature a 0.05" x 0.05" pitch for maximum grounding and routing flexibility, and the ultra-high-density 0.8mm-pitch SEARAY arrays provide twice the density with up to 720 Edge Rate contacts and a choice of 7mm or 10mm stack heights.
TE Connectivity
's ruggedized Raychem Cat 6A cable delivers 10Gb/s high-speed data transmission that meets or exceeds Cat 6A electrical requirements in harsh commercial, military, and aerospace applications, including: military ground vehicles and in-flight entertainment, flight control, avionics, and cabin management systems. Constructed with engineered fluoropolymers capable of supporting ANSI/TIA-568-C specifications for stable performance in extreme conditions over long lengths, the cable is available in 24 and 26AWG to satisfy size- and weight-critical applications and is compatible with most high-speed connectors, including: 38999, ARINC, and the company's own CeeLok FAS-T and CeeLok FAS-X connectors.
Stewart Connector's SS-60300 Series jacks are one of the only RJ45 connectors on the market with the electrical performance characteristics required to deliver 10G Base-T Ethernet signals. The series features a compact, simplistic design with the smallest-available RJ45 footprint and contacts especially designed to address the crosstalk and return loss issues common when using RJ45 connectors in high-frequency applications. Ideally suited for use in high-density 2.5GbE, 5GbE, and 10GbE applications where PCB space is at a premium, the series is capable of performing in 2.5G and 5G Base-T devices, which are designed to operate over existing structured cabling systems, as well as in PoE applications with 15–100W power requirements. It is available in 45°, 90°, and 180° shielded and unshielded versions that are IR reflow compatible and RoHS compliant.
Amphenol Pcd
's Luminus High-Speed twinax and quadrax connectors provide user-friendly, lightweight, and low-cost alternatives to heavier, more complicated, and more expensive metal shell connectors. Designed to support AS39029/90, /91, /113, and /114 twinax and ARINC600, ARINC404, and AS39029/119 and /120 quadrax rear-release, rear-removable, size-8 style contacts, the series delivers exceptional performance in space-constrained, Ethernet-enabled devices, including individual avionics sensors, panel-mounted units, and seatback and wall-mounted displays. The series also features a single-piece, high-temperature, and chemical resistant polyethermide housing, a scoop-proof construction, molded-in-alignment keys that help protect the small-gauge contacts during mating, an IP67 interfacial seal, a triple-rise grommet sealing boot for sealing on the wire side, and an easy-to-use quarter-turn cam lock with audible and visual aids for blind mating. It is rated for high mating cycles and operating temperatures spanning -65°C to +175°C.
Fischer Connectors
' ultraminiature, lightweight, and high-density MiniMaxTM Series has been extended to include a new, dedicated, size 08 USB 3.0 contact block. The connector and cable assembly solution is robust and IP68 sealed, even when unmated, and delivers fast, reliable data transmission, high performance, and greater functionality in small devices where weight and space are paramount. Offering multiple combinations of signal and power contacts in an ultra-compact, high-density body, the user-friendly USB connectors can replace multiple standard I/O connectors and achieve full compliance with demanding USB 3.0 data protocols in applications including miniature body-worn computers and high-performance cameras.
Cinch Connectivity Solutions
' CIN::APSE® solderless, high-density, custom interconnects are the most widely implemented crimpless and solderless high-speed interconnects in the industry. Used for board-to-board, IC-to-board, flex-to-board, and component-to-board applications in the aerospace, data center, and test equipment markets, the simple, patent-protected, two-piece design enables 50+Gb/s, high reliability under extreme mechanical shock and vibration, and a wide range of profiles spanning 0.02" to 1". Contacts are available in 1mm and 2mm diameters with a standard pitch of 1mm or greater, and the number of contacts is unlimited, with the largest connector implemented to-date containing 7,396 I/Os. Solderless termination is achieved through compression, and the unique contact design assures multiple points of contact per I/O.
Amphenol ICC
's RCx passive connector and cable system offers a simple, high-density, and low-cost solution for seamless, intra-rack 25, 50, and 100GbE switch to adapter connectivity. Its streamlined design eliminates the need to include provisions for active electrical components, such as EEPROMs, optics, retimers, and management ICs, and its density-optimized design can accommodate more than 128 25Gb/s lanes in an RU faceplate, allowing two RCx2 receptacles to fit on a half-height PCIe card faceplate or two RCx4 receptacles to fit on a full-height PCIe card faceplate. The versatile, four-lane RCx4 receptacle can be used as a four-lane port or can be bifurcated for use as multiple one- and two-lane ports. Samples are available upon request.
ODU
's ODU-MAC® Blue-Line hybrid, high-density, modular connectors are compatible with USB 2.0, USB 3.1 Gen 1, Ethernet, Cat 5, and Cat 6A (10Gb/s) protocols and offer tool-free clip assembly and removal, which enables easy installation by anyone, anywhere, even in the smallest of spaces. Available in both plastic and metal housings with the company's time-tested spindle locking or lever locking system and with up to 740 contacts, these economical solutions can easily withstand 100,000 mating cycles and are now offered as a high-speed combined modules with coaxial inserts capable of transmitting data at up to 4GHz, as well as with compressed air inserts capable of up to 12 bar and signal, power, high-current, data rate, and fiber optic transmission contacts.
ERNI
's miniature MicroSpeed board-to-board modular connector system has a 1mm pitch and supports high-speed data applications up to 25Gb/s with exceptional signal integrity. Ideal for existing and next-generation communication protocols, the connectors feature a flexible, open-pin-field design with several different signal-pair layouts for differential data transmission, a long, 1.5mm contact wipe length that enables any stack height spanning 5–20mm, and low-inductance shielding that effectively achieves noise-sensitive designs without the addition of costly shields within the enclosure. Coplanar and perpendicular configurations are also available, as is a complimentary power module series that is derated to 6.5A per blame for more demanding power and signal application requirements.
ITT Cannon
's ARC 38999-Style Series III with ARINC 801 fiber optic inserts enable high-speed data, video, and signal transmissions in harsh commercial aerospace, military, and shipboard applications that demand maximum performance, speed, accuracy, integrity, and reliability. Capable of operating at transmission speeds of 10Gb/S or more, the fast, lightweight interconnects feature genderless, low-loss, size #16 termini with precision alignment features, optional pull-proof protection, and scoop-proof designs that offer alternate keying positions. The circular connectors are available with aluminum alloy shells in cable-plug, wall-mount receptacle, and jam nut receptacle configurations and with 2–32 fiber channel signal contacts compatible with buffered, simplex, and multi-channel fiber. The series is rated for 100 mating cycles and operating temperatures spanning -55°C to +125°C.
AirBorn
's verSI® Series open-pin-field connectors are designed to exceed the requirements of high-speed, 100Ω and 85Ω differential signal integrity applications. The series' socket contact features four redundant points of contact for enhanced reliability in mission-critical applications, bolt-down pads for improved robustness and worry-free mating and unmating, and optional EMI hoods for additional ruggedness and durability. Qualified to MIL-DTL-83513, the series also offers enhanced design flexibility with options including: vertical, right-angle, cable I/O, and flex-circuit mounting configurations; 40–500 contacts in 4–10 rows and 10–50 columns; and paste-in-hole, through-hole, and compliant pin press-fit terminations. Its vertical board-mount plugs and mating receptacles also support board-to-board stacking applications. The standard offering for board spacing extends from 8–25mm, but incremental ranges can be tooled to fit any application.
BTC Electronics
supplies Meritec's Hercules Interconnect System, which provides a durable, high-bandwidth interconnect scheme suitable for many military, aerospace, and ruggedized high-bandwidth applications not previously accommodated by industry standards. This system supports data rates in excess of 10Gb/s and differential pair signaling with low-skew pairs and shielding for maximum EMI/RFI protection. It also offers 4X high-bandwidth cable with LSZH or PVC jackets and FEP-insulated 28AWG twin-ax with Halar® Expando® sleeving. The system meets protocols, including: USB 2.0 and 3.0, IB, SAS, SATA, Serial I/O, and PCIe, and is available in a variety of shell sizes, build options, and lengths for application-specific customization.
Hirose
's rugged ER8 Series board-to-board connectors have an 0.8mm pitch, are optimized for signal integrity performance, support high-speed transmission of more than 10Gb/s, and are a licensed second source for the Samtec Edge Rate® Series. Ideal for use in broadcast, medical, point-of-sale, servo motor, and vehicle navigation applications, amongst others, the series has mating and unmating forces up to six times greater than typical micro-pitch connectors, and is available in mezzanine and right angle versions with low-profile stacking heights spanning 7–12mm. The vertical connectors are offered with 10–120 positions, and the right-angle model features 120 positions.
Bel Magnetic Solutions
' single-port, 2.5G Base-T, 100W, four-pair, PoE MagJack® integrated connector modules (ICMs) provide upgraded performance, as defined by NBASE-T and IEEE standards, in 100W maximum power PoE or 1A over standard Ethernet applications, including next-generation access points and IP cameras. Designed to be used as either power source equipment or a powered device, these ICMs allow users to implement 100W PoE, essentially doubling the amount of power their product can handle over any existing application while still operating at multi-rate Ethernet speeds. They are compatible with all major 2.5G Base-T PHYs, including the latest current-mode and voltage-mode PHYs, and are backward compatible, utilizing industry-standard footprints and pin-outs.
ODU-USA
's ODU AMC® high-density miniature connectors are designed for harsh-environment applications that require significant weight and space reductions, high-speed data transmission, and robust, high-reliability performance, including soldier communications and future soldier systems. Available in USB 3.0, USB 2.0, HDMI 2.0, and Ethernet options with shell diameters spanning 10–18.5mm and with as many as 40 contacts, the series offers numerous high-density signal configurations, as well as tailored versions for power (up to 15A) and data transfer (USB 3.0 with 5A power). Additional features include: keyed and color-coded shells to ensure reliable and simple handling, IP68 ingress protection, 5000-mating-cycle durability, a breakaway function for maximum safety, an operating temperature range of -51°C to +125°C, and an integrated cable assembly.
Cozlink
's five-meter, four-channel, pluggable, parallel, fiber optic QSP+ active optical cable (AOC) to 4x SFP+ AOC breakout interconnect solution delivers high performance in short-range, multi-lane 40G to 4x10G datacom and telecom switch and router and InfiniBand QDR applications. Compatible with Cisco's QSFP-4X10G-AOC5M, this hybrid optical cable solution features a QSFP+ optical connector with a hot-pluggable interface, four SFP+ optical connectors, and four 10.3Gb/s data lanes in each direction, achieving 40Gb/s aggregate bandwidth. Rated for 3.3V power supply voltage and operating temperatures spanning 0°C to +70°C, it also features an easy release mechanism, typically consumes only 0.8W per end, and is compliant with ISO 9001, CE, FCC, and RoHS 6 standards.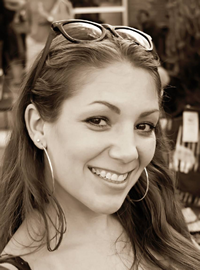 Latest posts by Christine Stieglitz
(see all)